17 Best Tampa Off Road Trails and Parks
Disclosure: We may get commissions for purchases made through links in this post.
With its beaches, cultural attractions, and amusement parks, Tampa is ideal for outdoor enthusiasts. But you may be wondering about off-roading. Where are the best places to off-road in Tampa?
If you want to stay close, you can head to Tampa MX or Withlacoochee State Forest. A bit further out is Hardrock Off Road Park, which has some fun 4×4 trails, water crossings, and obstacle courses. Tampa has some great off-road trails, but you may want to venture further out to explore more.
So, where are the best trails and parks to go off-roading in and around Tampa? We list our top 17 places to go.
Here are the 17 best Tampa off road trails:
Withlacoochee State Forest
Big Cypress National Preserve
Osceola National Forest
Apalachicola National Forest
Hog Waller Mud Bog & ATV
Lazy Springs Recreation Park
Hardrock Off Road Park
Redneck Mud Park
Cary State Forest Preserve Trail
Tampa MX
Bartow Motocross Park
Ocala National Forest
74 MX and Offroad
Lower Suwannee National Park
Boggin Bunnell Offroad Park
Bone Valley ATV Park
Vortex Springs Jeep Trails
The diverse range of activities and attractions make Tampa a fun off-roading destination. Even its hot weather and sporadic thunderstorms make its off road trails more challenging and fun! Here are some of the best off-road trails in Tampa.
17 Best Tampa Off Road Trails
1. Withlacoochee State Forest
This state forest north of Tampa has the Croom Motorcycle Area, a popular spot for dirt bikes and ATVs. It has sandy single-track trails that wind through the cypress forest. The area features play pits with steep drop-offs and mud bogs to keep every rider happy and occupied. There is also a beginner peewee track at the Hammock Day Use Area.
Dirt bikes, motorcycles, and ATVs with a width limit of 55 inches are allowed in the state forest. Riding is only during daylight hours, and pets are not permitted on site. Designated areas at Buttgenbach Mine Campground allow camping, with amenities like picnic tables, electric and water hookups, and clean showers with flush toilets.
Make reservations online or via phone when camping. Also, ensure that you secure an OHV permit and have an exhaust silencer before you ride.
2. Big Cypress National Preserve
Located in South Florida, Big Cypress National Preserve is about a 2.5-hour drive from Tampa. Big Cypress heavily regulates off-roading activities such as racing and mudding. Other types intended to test your vehicle's limits are prohibited. Just like in any other national recreation area, OHV permits are required (valid for one year).
3. Osceola National Forest
This other off-roading venue is located north of Tampa near Georgia's border and includes over 200,000 acres of pine flatwoods and hardwood swamps. It is very similar to Ocala National Forest and invites adventurers to explore the unknown.
The national forest features a 28-mile scenic trail, areas for hiking, horseback riding, and off-the-beaten-path for dirt bikes and ATVs and is and is subject to specific rules and regulations for off-roading.
4. Apalachicola National Forest
This national forest located northwest of Tampa is home to Silver Lake OHV Trailhead and goes by other names – Springhill Motorcycle Trailhead, North Oak OHV Trailhead, and Vinzant OHV Trailhead. This area offers 100 miles of smooth, flat, and dusty surfaces. The North Oak, in particular, consists of loose sand. All trails in the forest tend to get muddy during rainy weather, with some areas prone to flooding.
The property is open year-round and allows motorcycles, dirt bikes, and ATVsUTVs/SxS. Off-road trails have a vehicle width limit of 50 inches, and all riders under 16 years of age must wear an MX helmet. An OHV pass is also required – riders can purchase this from any of the staging areas. Currently, riders can only avail of either three-day or annual passes at $75 per rider.
5. Hog Waller Mud Bog & ATV
This off-road park is around a 2-hour drive north of Tampa. It allows ATVs/UTVs, but not dirt bikes, go-karts, and three-wheelers. It also requires ATVs/UTVs to have whip flags for safety. Hog Waller features 50 miles of trails, water crossings, and an enormous mud bog.
The park owners scheduled dedicated weekends for ATV riding and a separate one for larger 4×4, including Jeeps, to control traffic. Sadly, pets nor glass bottles are permitted inside the park. Designated campsites, restrooms, and concession stands are some of the amenities. Overall, this is one fun park you'd want to try. But before you do so, drop by the Xtreme Off Road Tampa to get those needed lifts if you enjoy the mud.
6. Lazy Springs Recreation Park
Located south of Tampa, and east of Fort Myers, Lazy Springs is a 375-acre off-road property. It features lakes for fishing, waterskiing, wave running, mud pits, motocross trails, and tons of dirt and rock to test your off-road vehicle's capabilities. Young riders are free to do doughnuts and wheelies on the sand. Plus, the wide variety of terrain from sandy trails to water crossings to hill climbs adds to the challenge.
There is a 96 dB noise limit observed within the premises. Other than that, there is no vehicle width cap or any other limiting conditions. One drawback is that there is no late wheeling in the park. And of course, there will always be safety guidelines that need to be observed.
7. Hardrock Off Road Park
Located in Ocala, north of Tampa, Hardrock is one of those Jeep offroad trails you're sure to love. It has four motocross tracks that can be enjoyed by riders of all skill levels – main, vet, sand, and peewee. The 2-mile main track has huge elevation changes, with both hard-packed and loamy sections. Other attractions include an oval track, hare scramble course, wood trails with chunky climbs, and a challenging rock garden.
What's great about this park is that Jeeps and ORVs/OHVs have their respective area to play in. SUVs, Jeeps, and dune buggies are only allowed in the rock crawl area and 4×4 trails. UTVs/SxS are permitted on 4×4 trails only, while utility and trail-type ATVs are prohibited on tracks and trails. Campgrounds with hookups and a beautiful lake are also available on the property. This off-roading haven is open to riders daily, from 10 AM – 5 PM.
8. Redneck Mud Park
Do not be deceived by the park's name, as it offers serious thrills and some of the best mud bogs in the Sunshine State. About a 2-hour drive south of Tampa, it has designated areas for ATVs, mudding, primitive camping, and even on-site concessionaire.
Jeepers and other 4×4 vehicles will be delighted to know that they won't be encountering ATVs on their trails anytime soon. Amenities such as the on-site buggy and car wash add convenience to the property and allow Jeepers to return home in a clean ride.
9. Cary State Forest Preserve Trail
This North Florida off road park is a 13-km loop near Bryceville. It's a bit further away from Tampa, taking around 3 hours to get there. The trail has tons of activities the entire year. It offers you a chance to see wildlife, play with your dogs, do horseback riding, and, best of all, off-roading.
The trail is smaller than its counterparts but is muddy and waterlogged in some places. What visitors like the most about this place is that there are not many bugs, and there's ample shade.
10. Tampa MX
The motocross track is open to quads and dirt bikes and has a good mix of clay and screened loamy black soil. There is no peewee track, but the main one is for all riding levels. Open practice is every Wednesdays, Saturdays, and Sundays. Local pro riders teach motocross riding lessons on Tuesday nights.
The track has ample parking space but not a lot of shade, so bring an umbrella. There are concessionaires in the park for those who would like to buy food and refreshments. Dirt bikes, two-stroke engines, and ATVs are permitted. All riders must wear a helmet.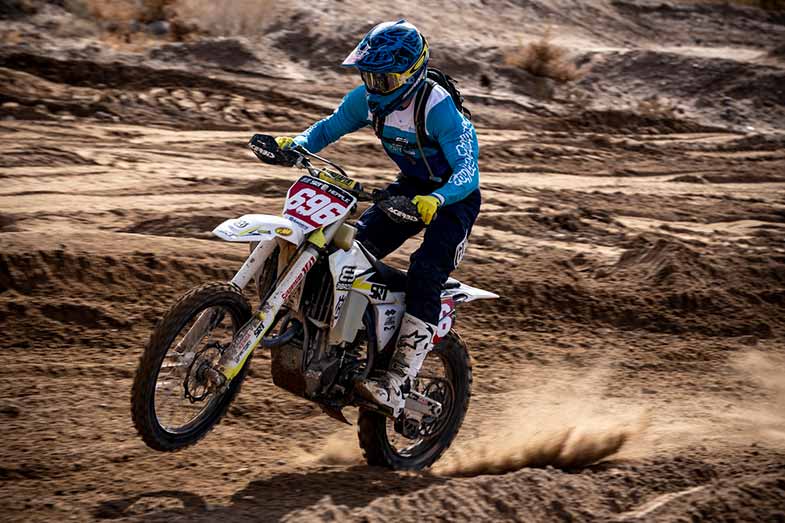 11. Bartow Motocross Park
About an hour's drive from Tampa, this motocross park holds race events and private riding lessons. It is known for its soft and deep sand, which makes for an exciting off-road experience. The park has a two-minute track that is relatively fast and offers soft to medium pack terrain.
Bartow features jumps that range from 35-95 feet with tabletops, doubles, berms, step-ups, and step-downs. There is a sand-based peewee track on the property designed for beginner riders and 50-cc bikes, and the main track is suitable for all skill levels. On-site amenities include spacious parking, restrooms, and drinking fountains.
This off-road trail located southeast of Lakeland Highlands is open from Thursdays to Sundays. Gates open for practice at noon and races are usually scheduled from 5 PM onwards. Gate fee is $10 per person unless you're five years old or below. Riding fee is $15 per member rider. There are also areas within the park designated for camping at $5 per person per night.
12. Ocala National Forest
One of the off road trails near Tampa is Ocala National Forest. It is considered Florida's top destination for off-roading and only takes about 1.5 hours to get there from Tampa. It boasts nearly 200 miles of sandy trails, an impressive ecosystem, and an 81-mile track dedicated for Jeeps and other 4WD vehicles. This national forest allows off-roaders to enjoy scenic surroundings while getting their much-needed adrenaline rush.
13. 74 MX and Offroad
Also called 74 Family Fun Park, this park south of Tampa features miles of wood trails, a large mud pit for ATVs/UTVs, and three tracks that cater to all skill levels. There is no noise limit or exhaust silencers required, but riders must wear helmets.
The property has green space for primitive camping and a freshwater pond where fishing is allowed. Fridays are dedicated to camping only, and riding is not permitted. Motorcycles, dirt bikes, and ATVs can ride in the park, but UTVs/SxS should stick to designated areas.
14. Lower Suwannee National Park
This wildlife refuge provides visitors recreational activities that go beyond driving in a 4×4. Here, you can view various habitats, enjoy paddling or fishing, or walk while admiring the beautiful surroundings. During heavy downpours, the Main Loop Road is sometimes closed to public driving, but visitors who walk or ride a bike are still allowed entry. The park prohibits ORVs/OHVs but is open to registered Jeeps and SUVs.
15. Boggin Bunnell Offroad Park
This 500-acre four-wheeler mud park near Daytona Beach, about 2.5 hours from Tampa, offers 500 acres of mud pits and plenty of parking space. Primitive and RV camping is permitted at $25 per person, but come prepared as the site has no hookups.
It is a privately-owned commercial park, so no OHV permits are required. However, dirt bikes are not allowed – only ATVs, UTVs, SxS, registered Jeeps, unregistered buggies, and two-stroke engines. Pets and glasses are strictly not permitted inside the premises.
16. Bone Valley ATV Park
This 200-acre property, also known as Fort Meade ATV Park, is a 53-minute drive southeast of Tampa via Lithia Pinecrest Road. It has around 15 miles of one-way trails marked and rated, open play areas, and hill climbs.
Unlike most off-road parks, it caters more to beginners as experienced riders will be able to circle the park in a short period, given that most of the trails only form short loops. There is plenty of paved parking, clean restrooms, grassy picnic areas, and concessionaires. Plus, they have added a clay track in the past year.
This novice ATV park is open almost year-round, except on Christmas and Thanksgiving Day. Hours are from 8 to 5 (October – May) and 8 AM to 7 PM (June to September). There is a 96 dB noise limit, so a spark-arresting exhaust silencer is required.
Three-wheelers, Jeeps, and sand rails are prohibited. Day-pass for riding is $15 per person and $250 for the whole year for those residing within the county. Non-county residents get charged $20 per adult and $10 per child (except if six years old or under).
17. Vortex Springs Jeep Trails
This Jeep off road trail near Westville, Florida, is about a 5-hour trip from Tampa. It is perfect for off-road enthusiasts who favor nature trips and challenging mud bogs, jumps, and berms. But if you think that this park will be boring, you are wrong.
There are a lot of hill climbs and rock crawling that happens in Vortex Springs – this is why the majority of the park's visitors are Jeep and other four-wheeler enthusiasts. So if you're looking for a Tampa Jeep trail, spend a weekend at Vortex Springs.
Conclusion – 17 Best Tampa Off Road Trails
So, what are the best off-road parks in and around Tampa? To summarize, here is the list:
Withlacoochee State Forest
Big Cypress National Preserve
Osceola National Forest
Apalachicola National Forest
Hog Waller Mud Bog & ATV
Lazy Springs Recreation Park
Hardrock Off Road Park
Redneck Mud Park
Cary State Forest Preserve Trail
Tampa MX
Bartow Motocross Park
Ocala National Forest
74 MX and Offroad
Lower Suwannee National Park
Boggin Bunnell Offroad Park
Bone Valley ATV Park
Vortex Springs Jeep Trails
There are lots of great off-roading places in Tampa. Most of them are either exclusively open to biking or hiking. Examples are Flatwoods Wilderness Park in Morris Bridge Road and Upper Tampa Bay Trail. Other noteworthy parks cater only to motorcycles and dirt bikes – with the variety of terrain they have.
It's almost a shame that most off-roading venues in proximity to Tampa's Bay Area prohibit ATVs and 4×4 vehicles. This city has a lot of different cultures, cuisines, and recreational activities. These elements are just so beautiful and refined that they do not jive with all that dirt and mud. It wouldn't hurt to step a little farther out of the city to find some ATV or Jeep off roading trails. You can always go back and enjoy its sunsets, anyway.