KTM 450 EXC Specs & Review: Enduro Off-Road Dirt Bike
Disclosure: We may get commissions for purchases made through links in this post.
Pavement, dirt, sand, or mud – all these types of terrain make no difference for the KTM 450 EXC. This carefully-engineered dirt bike has been tested to handle it all. As the racing community considers it one of the most polished motorcycles ever made, it would be interesting to know how it came to form.
The KTM 450 EXC is an Enduro-type motorcycle made for the versatile off-road rider. With its reliable engine, user-friendly controls, and tractable power, this dirt bike runs smoothly in all conditions. It is also a favorite build project by many enthusiasts.
Its race-ready build, engine configuration, and different applications prove the tremendous technical expertise that goes into making this world-renowned motorcycle. Learn all these plus tips on gearing modification and more, as this article helps you decide if the KTM 450 EXC is the right bike for you.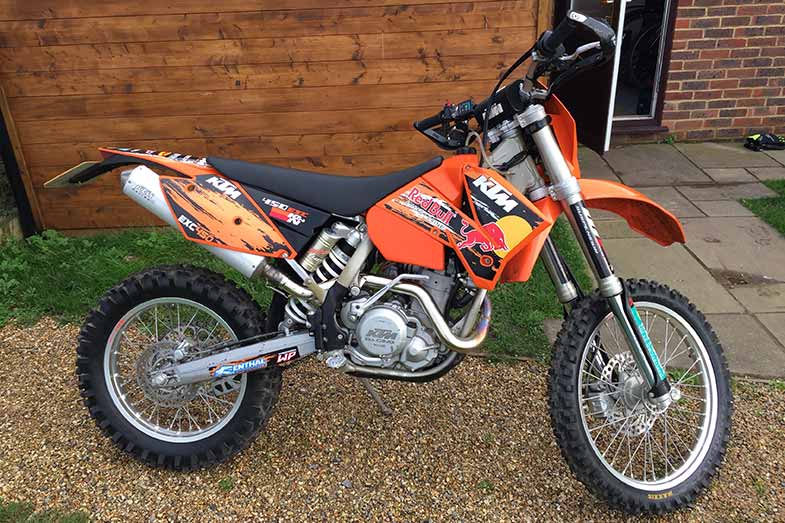 About KTM 450 EXC
The KTM 450 EXC is an Enduro-class dirt bike that was first introduced to the public in 2003. This bike was a spin-off from the earlier 400 EXC model, which won the 1999 World Enduro Championship. It used the same Racing Four-Stroke motor but with an increased displacement via a longer stroke.
A year after, the 2004 KTM 450 EXC came out, along with the launch of 990 Super Duke, 990 RC8 Venom, and 950 Supermoto in Munich. The dirt bike saw improvements in handling and a new frame with the 2005 KTM 450 EXC and 2006 KTM 450 EXC. Rear bodywork for both model years took after the SX model design.
Street-Legal
2007 was the year that the KTM 450 EXC street legal was first offered in such trim, with changes made in:
Gearing
Exhaust
DOT-approved Pirelli Scorpions
High-/low-beam lights
Turn signals
Handlebar switches
EPA-friendly emission controls
A horn
All other features of the dirt bike were virtually similar to the previously off-road-only bike. On the other hand, the XC (Close-ratio transmission) and XC-W (wide-ratio transmission) models replaced the off-road only version of the EXC in the U.S. The 2007 KTM 450 EXC was also the last bike to have the RFS motor – a very torquey motor known for good reliability that lasts for more than 45,000 miles on fully-stock engines – as the power mill changed to XC4 beginning 2008.
High Praise & Further Enhancements
Despite changes made to the KTM 450 EXC, the 2007 model continued to receive high praise from testers at the Little Burr National Enduro in Ohio. Like its predecessor, the '07 EXC effortlessly rode up clay trails laden with fallen autumn leaves, down shallow creeks, through tight wooded sections, and on smooth dirt roads. It glided beautifully on diverse terrain, much like how its dirt-bike version would easily rip through single-tracks.
The revamped bike did not exhibit lean spotting, nor did it bog at lower RPM. It did not require a lot of clutch work or tedious shifting. Riders do not hear that popping noise that usually comes out when you suddenly shut the throttle and decelerate.
Since then, KTM has made further enhancements to this dirt bike. A more compact XC4 engine with an improved balancer shaft and reduced vibration appealed to riders who were comfortable in the low-speed range.
The 2010 Champions Edition featured a front Brembo brake caliper, PDS needle design, reinforced gearbox with idler gears, and better timing chain tension. Models from 2011 had oil pump gears, shaft, and a new O-ring. The 2013 models enjoyed Electronic Fuel Injection (EFI), a diaphragm spring clutch, a lighter battery, and a plug on the engine's right side where you can add a kick-start lever.
KTM 450 EXC Specs & Features
Engine
The primary differences between the 2003 and 2007 KTM 450 EXCs are their engines, valve clearances, and recommended engine oil, plus a KTM 450 EXC price difference of $400 (based on data from Motorcycle.com). The conversion from full off-road to street-legal dirt bike in 2007 resulted in dirt penalties, taking away three ponies, and adding approximately 12 extra pounds in dry weight.
Configuration
2003 KTM 450 EXC
2007 KTM 450 EXC
Base MSRP
$7,198.00
$7,598.00
Engine Cooling
Liquid (permanent rotation via mechanically driven water pump)
Engine Fuel
Unleaded premium gasoline with at least RON 95
Unleaded premium gasoline with at least RON 95
(Premium PON 91 for USA)
Engine Brand Name
Keihin FCR-MX 39
Engine Type
4-Stroke (RFS) w/ balancer shaft
4-Stroke (XC4) w/ balancer shaft
Cylinder Arrangement
Single cylinder
Carburetion System
Carburetor, 1 x 39-mm
Valve Timing
4 valves over rocker arm SOHC; Single-chain camshaft drive
Camshaft
590/5521
Valve Diameter Intake
35 mm
Valve Diameter Exhaust
30 mm
Valve Clearance Cold Intake
0.12 mm (0.0047 in)
0.10-0.15 mm (0.004-0.006 in)
Valve Clearance Cold Exhaust
0.12 mm (0.0047 in)
0.10-0.15 mm (0.004-0.006 in)
Crank shaft bearing
2-cylinder roller bearing
Connecting rod bearing
Needle bearing
Top end bearing
Bronze bushing
Piston
Aluminum alloy cast
Piston Rings
1 compression ring, 1 oil scraper ring
Horsepower
52 hp (38.8 kW)
Maximum Torque
48 Nm (35 ft-lb)
Bore x Stroke Ratio
89 mm x 72 mm 89 mm x 72 mm
Compression Ratio
11.0:1
Displacement
448 c³ / 27.3 in³
Top Speed
148.1 – 151.3 km/h (92 – 94 mph)
0-60 mph / 0-100 kmh
4.5 seconds (fully stock)
Lubrication
Pressure circulation lubrication w/ two Eaton pumps
Engine Oil & Quantity
Full synthetic oil (Shell Advance Ultra 4 SAE 10W-40) w/ API grade of SG/SH or higher / 1.25 L
Full synthetic Motorex Power 4T SAE 10W-50 or 5W-40 w/ API grade of SL or higher / 1.25 L
Long-time KTM riders recommend the use of Rotella T 15W/40 (petroleum-based) or Rotella Shell T6 Full Synthetic heavy Duty Engine Oil 5W/40 (view on Amazon), both of which are JASO T903 MA approved. The T6 synthetic, in particular, helps reduce the grabby feel of the clutch when the motor hasn't reached full temperature yet.
Motorcycle magazines, on the other hand, recommend Bel-Ray Synthetic Super Bike, Castrol 10W50 Motorcycle Oil, and Motorex Cross Power – all these have a viscosity of SAE 10W-50. Your oil choice will depend on whether you are a new KTM bike owner, you do more racing, or you mostly ride for fun.
Drivetrain
A six-speed manual transmission delivers the power inclusive of a reverse gear and an X-Ring chain final drive.
Driveline
2003 KTM 450 EXC
2007 KTM 450 EXC
Clutch
Multi-disc clutch in oil bath
Transmission Type
6-speed manual, hydraulically operated wet-clutch
Final Drive
Chain, X-Ring 5/8 x 1/4 "
Primary Ratio
Straight geared spur wheels 33:76 Z
Final Drive Ratio
15:45 T
Ignition
The KTM 450 EXC has an electronic Capacitor Discharge Ignition (CDI) with an electric/kick-starter system. It requires a 12V battery with an assembled dimension of 4.5 inches x 2.81 inches x 3.38 inches (L x W x H – not including wire harness and mounting accessories). Storage temperature should not exceed 0 – 35°C (30 – 95°F).
Electrical
2003 KTM 450 EXC
2007 KTM 450 EXC
Ignition
Contactless DC-CDI w/ digital advanced system by KOKUSAN 4K-3B
Starting System
Kick – electric starter
Spark Plug
NGK DCPR 8 E / 0.6 mm (0.02367 in)
Generator
12V-150W
Battery
Maintenance-free 12V 8Ah
Maintenance-free 12V 4Ah
Tires & Brakes
Stock tires remained unchanged for 2003 to 2007 EXC models, as well as disc brakes.
Tires & Brakes
2003 KTM 450 EXC
2007 KTM 450 EXC
Wheels Composition
Steel
Front Tire, off-road/road air pressure
Pirelli 90/90 – 21", 14.5/21.8 psi
Rear Tire, off-road/road air pressure
Pirelli 140/80 – 18", 14.5/29 psi
Front Brake Type
Brembo Disc brake w/ 260-mm (10.2 in) carbon-steel brake disc, brake caliper floated
Rear Brake Type
Brembo Disc brake w/ 220-mm (8.7 in) carbon-steel brake disc, brake caliper floated
Suspension
The front suspension changed from an adjustable WP USD 48 to an inverted WP 4860 MXMA fork in 2007. The rear suspension remained the same, but with slight changes to the measurement standard. It utilized an aluminum swingarm that allowed 13.2 inches of travel and was perfect for rough terrain. None of these changes adversely affected the plush suspension that KTM bikes are well-known for.
Suspension
2003 KTM 450 EXC
2007 KTM 450 EXC
Front Suspension Type, Travel
WP USD 48 mm (fully adjustable), 300 mm / 11.8 in
WP Suspension 4860 MXMA (or + PA) inverted fork, 300 mm / 11.8 in
Front Adjustable Fork Pre-load
Yes (5 mm standard, adjustable up to 20 mm)
No
Rear Suspension Type, Travel
WP Progressive Damping System shock absorber, aluminum swing arm, 335 mm / 13.2 in
Rear Adjustable Shock/Spring Pre-load
Yes (8 mm standard, adjustable up to 10 mm)
Yes (5 mm standard, adjustable up to 10 mm)
Adjustment Type
Standard Adjustment, WP 5018 PDS MCC 1218X761
Dimensions
The 2007 KTM 450 EXC gained a few more pounds for two reasons – because it had more components that made it street-legal and partly due to the change in the engine from RFS to XC4. Other than that, nothing else was altered. There were also small dimensional variances between the models released in the U.S. and those released in Australia and elsewhere.
Dimension
2003 KTM 450 EXC
2007 KTM 450 EXC
Length
2500 mm / 98.4 in
Width
815 mm / 32.1 in
Height
1200 mm / 4.2 in
Seat Height
925 mm / 36.5 in
Ground Clearance
380 mm / 14.96 in
Wheelbase
1,481 mm / 58.3 in
Dry Weight
111-118.2 Kg / 244.7-260.6 lbs
113 Kg / 249.1 lbs
Curb Weight
130 Kg / 286.6 lbs
Exterior
KTM dirt bikes were composed of a double-cradle chrome-moly steel frame and plastic body material with its signature orange and black matte finish that makes look sophisticated yet durable. Instead of gauges, the fuel, temperature, and other indicators are embedded in the bike's digital instrumentation. A trip odometer switch is offered as an option. Models released in Australia exclusively come with an emergency off switch.
Additionally, aftermarket rear fenders would not be an exact fit for your dirt bike as the OEM one has two screw posts towards the fender's rear underside that holds the taillight tray to it. You may reach out to racing outfitters such as Baja Designs or Sicass Racing for a custom fender with these screw posts.
Exterior
2003 KTM 450 EXC
2007 KTM 450 EXC
Frame
Central double-cradle type Chromium Molybdenum (25CrMo4) steel frame
Body Material
Plastic
Front Fender Flares
Standard
Rear Fender Flares
Standard
Chain Guards
Yes
Fork Guards
Yes
Heel Guards
Yes
Instrumentation
Multi-lingual Digital Instrumentation
Standard
Electronic Speedometer
Standard
Indicator Lamps
Standard
Trip Odometer
Standard (switch optional)
Lap Timer
Standard
Clock
Standard
Emergency Off Switch
Standard in Australia
Lighting
DOT-approved lights were fitted to the 2007 model, in compliance with street-legal parameters in the U.S. Voltage and socket size remain the same.
LIGHTING
2003 KTM 450 EXC
2007 KTM 450 EXC
Headlight
HS1 12V 35/35W
12V 35/35W (Socket BA20D)
Parking Light
12V 5W (Socket W2, 1×9,5d)
Brake – Rear Light
12V 21/5W (Socket BaY15d)
Flasher Light
12V 10W (Socket Ba15s)
License Plate Illumination
12V 1,2W (Socket 1×4,6d)
N/A
Capacities
Data on the KTM 450 EXC is not published in the owner's manual but is based on the 2004 KTM 450 EXC sourced from Fuelly.com. This figure will vary depending on how you use your two-wheeler.
CAPACITIES
2003 KTM 450 EXC
2007 KTM 450 EXC
Fuel Capacity
8 L / 2.1 US gal (reserve – 1 L / 0.3 US gal)
Rake, Trail
26.5°, 4.3 in (110 mm)
Fuel Economy
5.53 L / 100 km (42.5 mpg)
The Dual-Sport Bike Build
In this video by Rocky Mountain ATV MC, the presenter talks about how his friend turned a 2004 KTM 450 EXC from a pure off-road ride into an awesome street-legal bike:
Some of the tips he gave are summed up below:
Frame restoration – When powder-coating the frame, it is crucial to tape all the holes where parts or bearings would fit in so that when you reassemble the bike, all the parts will slide in smoothly.
Suspension – Replace all seals and components with new ones and re-valve everything.
Engine – New compression piston, valves, springs, and gaskets will help extend engine life and bring it back to its former state.
Carb – If the carburetor is not damaged, it will only need a thorough cleaning and new seals.
Exhaust – If the stock header is still in one piece, add a slip-on FMF exhaust to boost performance.
Seat – New foam and seat cover will help with the extra grip when riding aggressively.
Footpegs and chain block – A strong footpeg will be good for long rides. The chain block will protect the tires from any bashing when riding the outdoors.
Gearing for Speed
Be sure to do thorough research if you want to tweak stock gear ratio for more top-end speed, as higher gear ratios could get into RPMs that may result in loose nuts, bolts, and tooth fillings. Likewise, consider that you may be losing some more grunt and doing more clutch work as an outcome. Other abstract aspects to take note of are rider size, riding style, and your speed preference.
Recommended gear ratios would differ for someone wanting to pop instant wheelies and hit 120 mph versus a rider after a decent operating range that would include 60 mph and technical riding. The technicality of the terrain is automatically a factor and should be a no-brainer.
Tires
Changing tires alters the dynamic of your gear ratio entirely. A lighter tire paired with a 14:45 can add up to your top-end. Going to 14:42 could be too low for some. If you happen to get MT43 knobbies and mate it with 13:52 gearing, you will still hit 90 mph when you need to while being comfortable cruising at 55-65 mph. However, this particular tire is not known for being well-balanced. Hence, the need for researching – even about the rubber.
Engine
Lastly, don't forget that KTM 450 EXC engines differ between 2003 to 2006 and 2007 model years. The former models had RFS motors that tend to be noisier. If you have a bike with this particular engine, then you might get the impression that you're over-revving even if you are not. The XC4 engine the '07 EXC had is quieter. Ultimately, gear your dirt bike for where you do 75% of your riding. If that includes dirt roads, double tracks, and some pavement, go tall (or vice-versa).
About KTM
KTM or Kraftfahrzeuge Trunkenpolz Mattighofen Aktiengesellschaft is one of the world leaders in off-road motorcycle production and is the maker of KTM 450 EXC. The Austrian firm has been the largest motorcycle manufacturer in Europe since 2012.
Currently owned by Pierer Mobility AG and Bajaj Auto Limited International Holdings B.V., KTM AG has 13 subsidiaries, numerous world championship titles, and many dirt bike models under its belt. To date, the company continues to produce adventure-ready bikes built for sport and leisure.
Conclusion – KTM 450 EXC Off-Road Dirt Bike
The KTM 450 EXC is one of the best dirt bikes produced by any manufacturer since the advent of four-stroke engines and motocross rallies. It has transitioned a lot in the past 17 years – all geared towards the rider's enjoyment and transport needs.
It started as a motocross spin-off but slowly evolved into an all-around, dual-sport dirt bike that you can ride on two-way lanes as well as rock-laden tracks. If you're looking for a wheeler that speaks ingenuity and sleek design and is up for a long day of slicing through trees and trails, then look no further than the KTM 450 EXC!