Suzuki DR350 Dirt Bike (Specs and Review)
Disclosure: We may get commissions for purchases made through links in this post.
For recreational riders and enthusiasts, the Suzuki DR350 is a name that resonates with excitement and off-roading. But beyond its dual-purpose nature, few motorheads know that it laid the groundwork for the iconic DRZ, which has earned a reputation for its unrivaled performance and off-pavement capabilities. Let's spotlight this unsung hero in this guide as we cover some of its specs and history.
The Suzuki DR350 is a 349-cc Enduro-style bike that precedes the famous dual-sport DR-Z400. It features a simplistic design, a reliable air-cooled engine, and an aluminum swingarm (the first imported into the UK). Post-1994 models received an electric starter that made for easier cold starts.
Many off-roaders consider the Suzuki DR350 as the 'bedrock of green-laning' — and rightfully so. It is mechanically simple, rugged, and cheaper than a brand-new KTM 390 Adventure.
While not all motorheads would want a bike with a 20-year-old tech, most enthusiasts would grab this deal without a second thought. Wondering why this is the case? Continue reading to find out.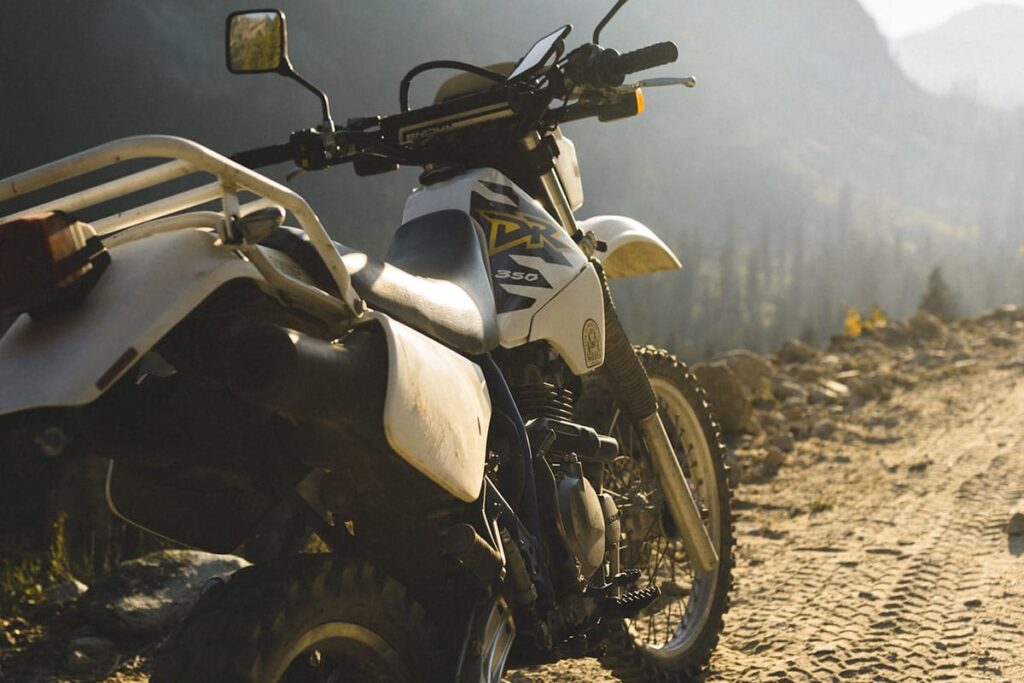 Suzuki's "One-Lung Trail Iron"
This description was penned by Classic Motorbike's Editorial Team, and I couldn't agree more. This overview aptly captures the heart of the ruddy Suzuki DR350.
Launched in 1990, this Enduro-dirt bike preceded the highly-acclaimed DR-Z400 and was targeted at the same subsegment of riders. However, it was a tad heavier than most 350-cc thumpers and not as powerful or agile as its successor. This made things slightly challenging for the two-wheeler, whose bullet-proof nature and alleged association with the legendary Yamaha XT500 were almost overshadowed by the popularity of its same-era competition.
In hindsight, these nuances were deliberately made part of the motorcycle's design. Based on research by numerous online sources, the DR350 intended to fill the 'something-in-between' gap in the off-roading niche. This gap was representative of riders who wanted a bike that was laid-back and robust but still suitable for most off-roading adventures (without an overkill in performance figures).
Expectedly, the Suzuki DR350 filled this void just fine — and it did so for the next 11 years (only until 1999 for U.S. releases). Had it not been for the advent of stricter emissions regulations, this machine would have probably continued holding its fort for way much longer.
1990 Suzuki DR350 Specs & Features
Engine
The Suzuki DR350 has an air-cooled, single-cylinder 4-stroke OHC power mill bringing it to life. It has a bore-stroke ratio of 79 mm x 71.2 mm (3.110 x 2.803 inches), a 9.5:1 compression ratio, and a piston displacement of 349 cm3 (21.3 in3). A single Mikuni TM33SS carburetor, alongside a polyurethane foam element, handles the air-fuel mixture.
Overall, the engine's layout yields the following performance figures:
| Description | |
| --- | --- |
| Top Speed | 80—90 mph (128—145 km/h) |
| Horsepower | 30—33.4 hp (22—24.6 kW) |
| Maximum Torque | 34.7 Nm (3.54 kgf-m, 25.6 lb-ft) |
| Fuel Economy (CTY/HWY) | 45—55 mpg (5.1—6.3 L/100 km) |
| Approximate Tank Range | approximately 112.5—159 miles, 181—255 km |
While the power output of a stock DR350 is comparable to a 125cc 2-stroke, the "power under the curve" makes this Enduro peculiarly stand out. Typically, one would have to ride the motorbike at 8,000 RPM to make the most of its ponies. But on slippery trails, riding @ 2,000—5,000 RPM is how you can best access torque and be guaranteed improved traction and smoother acceleration on the DR350.
Fuel & Lubrication
The lubrication system is a dry sump type with the following requirements:
1.7 L (1.8 US quarts, at oil change)
1.9 L (2 US quarts, with filter change)
2.1 L (2.2 US quarts, during overhaul)
586 mL (19.8 US oz., front fork oil)
Use of SAE 10W-40 4-stroke motor oil or equivalent with a minimum API grade of SJ meeting JASO T903 MA standards is highly recommended. Following changes in ambient temperatures, altitudes, and riding conditions, other viscosity grades specified in the service manual are allowed for use.
Fuel-wise, capacity is 9.5 L/2.5 USgal, including 1.8 L/0.5 USgal reserve) of unleaded gasoline.
Drivetrain
A 6-speed, constant-mesh transmission with a wet multi-plate clutch assembly (having a 1-down, 5-up gearshift pattern) delivers power to the rear wheel. Meanwhile, a Takasago RK520SO (view on Amazon) or Daido DID 520VC5 chain with 110 links handles wheelspin. These components render the two-wheeler versatile and well-suited for dirt tracks and off-roading.
For your reference, stock gear ratios are listed below:
| Description | |
| --- | --- |
| Primary Reduction Ratio | 2.818 (62/22) |
| Transmission Gear Ratio – Low | 2.416 (29/12) |
| Transmission Gear Ratio – 2nd | 1.733 (26/15) |
| Transmission Gear Ratio – 3rd | 1.333 (24/18) |
| Transmission Gear Ratio – 4th | 1.111 (20/18) |
| Transmission Gear Ratio – 5th | 0.952 (20/21) |
| Transmission Gear Ratio – Top | 0.826 (19/23) |
| Final Reduction Ratio | 3.357 (47/14) |
Ignition & Electricals
The Suzuki Pulsed Engine Interface (PEI) and a primary kick-start system bring the dirt bike to life. The ignition system per se is a Capacitative Discharge Ignition type with a timing of 5° BTDC @ 2,300 RPM (at initial "F" mark) and 30° BTDC @ 4,300 RPM (at full advance). It is supplemented by an NGK DPR9EA-9 or Nippon Denso X27EPR-U9 spark plug with an electrode gap of 0.8–0.9 mm (0.031–0.035 inch).
For its charging system, the DR350 utilizes a flywheel magneto with a no-load voltage of more than 75 V (AC) @ 5,000 RPM and a regulated output of 12-14 V @ 5,000 RPM. This setup, together with a YTZ5S-BS or YTX4L-BS battery (view on Amazon) format, is the power source for lighting and electronic accessories.
Note, however, that this electrical setup is true only for electric-start versions of the Japanese Enduro. If you own the off-road version of the DR350, it will not have a battery (meaning that all its lighting primarily runs off the stator's AC voltage power and cold starting would be a tad more difficult, too!).
Tires & Brakes
Factory tires consist of tube-type radials — 80/100-21 51M (view on Amazon) at the front and 110/100-18 64M at the back. These knobbies are mounted on wire-spoked wheels and have a recommended cold-tire pressure of 100 kPa (1.0 kgf/cm2, 14 psi) for each. For its stopping power, the Suzuki DR350 relies on dual hydraulic discs.
Suspension
Enclosed in its diamond steel frame (62° 30′ caster angle; 115 mm/4.6 inches trail) are front telescopic forks and a link-type rear swingarm (with some models equipped with 47-mm twin-chamber forks). Each suspension unit has oil-damped coil springs and offers spring preload and compression damping adjustability. Additionally, they provide a generous wheel travel of 260 mm (10.2 inches) and 280 mm (11 inches), front and rear.
Other factors that augment the motorcycle's suspension geometry are its 2.3-meter (7.2-foot) turning radius, 1,435-mm (56.5-inch) wheelbase, and 290-mm (11.4-inch) ground clearance — all of which make for superb cornering angles and overall maneuverability, especially on dirt roads or technical trails.
Updates Post—1990:
Earlier generations of the Suzuki DR350, specifically 1990—1994 models, featured a convenient large slot-head style cap that allowed easy front fork preload adjustment. In subsequent years until 1997, the Enduro motorcycle received an upgrade to a cartridge-style fork with enhanced internal damping technology.
During the same period (1995—1997), the motorcycle's top preload adjuster was removed. To compensate for the adverse impact of this change, a compression adjuster was introduced at the bottom of the fork legs that allowed gearheads to fine-tune the compression speed when encountering obstacles.
From 1998 production models onward, the Suzuki DR350 was equipped with 43-mm forks (view on Amazon). These forks featured a compression clicker adjustment at the bottom and a rebound clicker adjustment at the top, providing riders with enhanced control over the system.
It is important to note that different variants of the DR350 had varying adjustment levels. For example, early DR350S models only offered preload adjustment, while DR350SE iterations incorporated adjustability for preload and rebound damping. In particular, 1998 and newer SE versions introduced a rebound adjuster on the shock to further enhance suspension-tuning capabilities.
Dimensions & Capacities
The machine's overall dimensions are 2,165 x 885 x 1,250 mm (85.2 x 34.8 x 49.2 inches — L x W x H). Meanwhile, the seat height is 920 mm (36.2 inches), allowing for better maneuverability over obstacles or uneven terrain and tailored fit for motocross tracks and aggressive, off-road riding. It is worth noting that riders will find it easier to touch the ground on this two-wheeler compared to most modern Enduros.
Capacity-wise, the dry weight is 113 Kg (249 lbs., unladen sans fluids and a full gas tank), with California releases heavier by approximately 3 Kg (6.6 lbs.). Maximum payload is unspecified in the manual but can be assumed to fall within the range of 159—181 Kg (350—399 lbs.).
With these values taken into account, GVWR (Gross Vehicle Weight Rating) — a combination of curb mass, rider weight, cargo, and accessories (if any) — can be estimated at 289—311 Kg (637—685 lbs.).
Exterior
The Suzuki DR350 features a rugged and versatile exterior that embodies its off-road capabilities. Its overall styling is characterized by clean lines, a purposeful stance, and a no-nonsense approach to adventure/MX riding.
Its front end showcases a bold, angular headlight assembly and a compact, protective front fender. Meanwhile, its aerodynamic radiator shrouds contribute to the two-wheeler's cooling capabilities and, more importantly, its visual appeal.
Complementing the bike's front profile is a robust frame, an ergonomic fuel tank, and a supportive saddle for long rides. Finally, completing the bike's rear profile is a functional yet minimalist design showcased by the rear fender and tail section.
Overall, the exterior and styling of the DR350 radiate an aura of strength, adaptability, and exploration, irrefutably proving itself a capable off-road motorcycle ready to take on challenging terrains and dirt roads with confidence.
(TIP: For an extensive rundown of all significant upgrades done on the two-wheeler, this feature by Classic Motorbikes would be a great resource.)
How Much Is a Suzuki DR350?
The Suzuki DR350 MSRP, during its debut, was sold for $3,299 — with incremental increases of no more than $100 in subsequent years. The biggest rate increase the bike had was going into the 1994 model year when the listing price jumped from $3,599 to $3,999.
For the majority of the DR350's production run, both kick-start and electric start versions were made available to the public — with electric-start iterations adding a $50–$100 premium on the base price.
| Model & Year | List Price/MSRP |
| --- | --- |
| 1990 Suzuki DR350 (S/SL) | $3,299 |
| 1991 Suzuki DR350 (M/SM) | $3,399 |
| 1992 Suzuki DR350/S | $3,499 |
| 1993 Suzuki DR350 (P/SP) | $3,599 |
| 1994 Suzuki DR350 (R/SER) | $3,999 |
| 1995 Suzuki DR350 (S/SES) | $4,149 — $4,199 |
| 1996 Suzuki DR350 (T/SET) | $4,399 — $4,499 |
| 1997 Suzuki DR350 (V/SEV) | $4,499 — $4,599 |
| 1998—1999 Suzuki DR350 (W/SEW, X/SEX) | $4,549 — $4,649 |
(Source: JD Power)
As for resale values, low-to-average retail pricing falls between $195 and $2,910 (according to JD Power). But based on auction listings by The Parking Motorcycle website, secondhand units are faring better than what this prior data reflects, with price ranges averaging at €1,413—€6,851 (or approximately $1,549—$7,512).
Most pre-owned dirt bikes posted for sale are in good working condition with at least 20,000 miles on the tach. No specific model is mechanically sounder than others, although production years 1992—1995 and 1999 seem to keep their value better than other versions.
Suzuki DR350 Lowdowns
Because of the two-wheeler's inherently tall saddle position, shorter-inseam riders may be challenged with touching the ground with one foot when coming to a stop. There are two ways to address this — either go for the version of the bike with a slightly lower center of gravity or purchase an aftermarket lowering link (view on Amazon) that will enable you to lower the saddle by 1-2 inches. The latter will also warrant adjusting the front fork height to ensure there is no imbalance or adverse effects on handling.
Conversely, the motorcycle's cockpit may feel cramped for taller riders. In particular, motorheads with a larger build may find the seat height and legroom relatively compact. This drawback doesn't necessarily take away from the bike's handling on various terrains. But it does put a dent in rider comfort.
Although sport-oriented and aggressive, the DR350 will never be as powerful as the Suzuki DR-Z400 and other high-performance MX two-wheelers. That said, set your expectations accordingly, especially when buying a secondhand unit with multiple previous owners from the used-bike market. Nonetheless, you can trust that the Suzuki DR350 will provide smooth power delivery and ample torque for all your off-roading adventures.
About Suzuki
Suzuki Motor Corporation (headquartered in Hamamatsu, Japan) is an automotive powerhouse and one of the Japanese "Big 4." Initially involved in Japan's silk industry as a weaving loom manufacturer, it later diversified into automobiles under the leadership of founder Michio Suzuki.
From the small-scale production of prototype cars in 1937, the firm broadened its scope to include manufacturing outboard marine engines, ATVs, and motorcycles like the Suzuki DR350. Since then, Suzuki has grown into a global conglomerate with significant contributions in various automotive sectors and with 133 distributors in 92 countries and over 68,499 employees worldwide.
Conclusion — Suzuki DR350 Review
Despite its potential drawbacks, including a subpar finish, modest engine performance, and slightly excessive weight, the Suzuki DR350 remains endearing and resilient.
When considering a purchase, there's little need for modification. However, it is advisable to opt for a post-1995 model with an electric start for convenient cold starts. Everything else you need to know prior to ownership is already provided in this guide.