12 Best Off Road Trails Colorado Springs
Disclosure: We may get commissions for purchases made through links in this post.
Off-road vehicles are built for tough terrain, and when you've got one, you might want to rough it out on a challenging trail. Or if you're new to off-roading, you certainly want to find easy trails that you can cut your teeth on.
Whether you're a newbie or an experienced ATV or Jeep off road trail rider, Colorado Springs has offroad trails that will suit your skill level. This article shows you the 12 best off road trails Colorado Springs can boast of.
Here are some of the best off road trails Colorado Springs has to offer:
Mount Baldy
Rampart Range Road
Switzerland Trail
Weston Pass Trail
Grand Mesa Trails
Gold Camp Road
Lower Gold Camp Road
Mt. Rosa
Old Stage Road
Crow Creek Loop
Saran Wrap
Eagle Rock
Want to go on an adventurous joyride with your Jeep? Offroad trails are the best places for joyrides with the scenic views and the wide variety of experiences they offer. But you want to ensure that you stay safe, especially at night.
Nothing is scarier than having your headlights dying on you when the night is pitch black, and you're in a place you're just beginning to explore. That's why it's essential to have high-quality headlights. The LX-LIGHT 7″ Round Black Cree LED Headlight (view on Amazon) has a life expectancy of over 80,000 hours. It's waterproof and maintenance-free. You can feel secure that your headlights are in good working condition wherever you are. It's compatible with Jeep Wrangler JK, TJ, LJ, and CJ. Check it out!
12 Best Off Road Trails Colorado Springs
1. Mount Baldy
Mount Baldy is within the Pike National Forest, which is about 15 miles southwest of Colorado Springs. The trail is more or less six miles long, with elevations reaching over 11,000 feet. It's quite secluded and less traveled than any other road in the vicinity. If you crave solitude, this is the place to go.
The Pike National Forest is home to several trails that allow a wide range of outdoor activities. The location has some mild trails which are suitable for sedans and minivans.
However, it also has 4×4 trails Colorado Springs vehicle owners should explore. These trails extend through higher elevations. The panoramic views of the plains and mountains make the drive a visual feast.
2. Rampart Range Road
The Rampart Range Road is one of the Colorado Jeep trails that run through Pike National Forest. This popular, well-maintained spot was built in the 1930s by the Civil Conservation Corps. A marker stone that commemorates the trail's completion and opening in 1933 serves as a waypoint along the trail.
The Rampart Range Road traverses several counties from its north end to Colorado Springs. The southern end is a smooth drive, and it offers the most when it comes to amazing views.
If you plan on cutting a Christmas tree, you should know that the Pike National Forest runs a yearly permit program that will allow you to do just that. The permit is only $10. The area where most people cut Christmas trees is within Rampart Range Road.
The Crow Creek Loop isn't an ATV trail for beginners because of some narrow and tricky spots. You'd be wise to gain some experience before you rough it out with your Jeep on this trail. Also, for Jeep offroad trails, you have to make sure your vehicle is well-equipped to handle challenging conditions.
3. Switzerland Trail
New to offroading? The Switzerland Trail is both fun and challenging, but not overwhelming for beginners. Located a few miles west of Boulder, the spot only takes a couple of hours to reach if you're driving from Colorado Springs.
The trail offers scenic views of the neighboring foothills and snow-capped peaks. It's slightly sloped in some places and follows an old railroad route from Sugarloaf Mountain to Gold Hill. The place is around eight-and-a-half miles long, with elevations between 7,700 to 9,000 feet.
This off-roading spot is open throughout the year and is perfect for a snow driving adventure. You can find great picnic areas within the location, so you may want to grab some food and have a feast after driving through the trail.
4. Weston Pass Trail
The Weston Pass Trail is another easy trail for off-roading newbies. It is near Leadville, which is just a two-and-a-half-hour drive from Colorado Springs. This spot was once known as the "Road To Riches" because it's formerly a busy wagon road where thousands of gold miners pass through. Nowadays, it's an easy dirt road that runs through the Pike-San Isabel National Forest and connects Lake County and Park County.
The area is an excellent place for camping and wilderness hikes. It offers alpine views, and the autumn promises a magnificent display of colors. Driving through the trail feels like time traveling. You can explore old gold mines and take pictures of old wood cabins. Also, the mountain views are simply breathtaking!
While the Weston Pass is an easy trail, some nearby roads require a higher level of driving skill and a vehicle with high clearance.
5. Grand Mesa Trails
The Grand Mesa National Forest, south of Mesa and Collbran, has 150 miles of off-road trails. Whether you're starting out or a veteran to off-roading, you'll undoubtedly find one that suits you.
The trails offer a stunning visual treat, including picturesque meadows, lakes, and various tree species. It's a six-hour drive from Colorado Springs, so you might want to bring some camping gear for an overnight stay.
6. Gold Camp Road
This trail connects Colorado Springs with the Victor/Cripple Creek. It's a fantastic drive with beautiful scenery. The primary access road also leads to other trails such as Bull Park, Mt. Baldy, and others that branch off the route. The landscape includes stunning views of peaks, valleys, and rock formations.
If you want to get to the popular trails and shooting spots in Colorado Springs, this is a place you should never miss.
7. Lower Gold Camp Road
The Lower Gold Camp Road is a scenic route that traverses through a pine-carpeted area near Colorado Springs and is a historic place full of breathtaking scenery. The camp area hosts many hiking and mountain biking trails.
Among all Colorado off road trails, the Lower Gold Camp Road is probably one of the most historic. It passes through 2.5 miles of the former location of the Colorado Springs and Cripple Creek District Railway Company's railroad line. Opening in 1901, the rail line was touted as the shortest possible route to the gold fields. It was later given the nickname, "The Short Line."
After World War I, the route was purchased by W.D. Corley, a Colorado Springs businessman. He renamed the trail the Corley Mountain Highway and opened it as a toll road. The trail got its present name in 1939 and has since been maintained for free, public travel.
If you're traveling there, be sure to visit the Helen Hunt Falls. It's about 200 yards southeast of the southern trailhead. The 36-foot tall waterfall is framed by a small bridge. A brief hike at the top of the falls leads to the Silver Cascade Falls.
8. Mt. Rosa
Mt. Rosa is another popular destination for off-roading and a refreshing getaway from the city's hustle and bustle. The scenic drive offers fantastic views of Colorado Springs. Newbie wheelers can get a lot of practice on the trail because the terrain is easy to navigate.
However, the "Wye" trails that connect to Mt. Rosa have small offshoots that can be difficult to get through.
9. Old Stage Road
The Old Stage Road is another connecting trail between Colorado Springs and Victor & Cripple Creek. It's a 42.2 kilometer lightly trafficked trail that is good for all skill levels. The best time to travel through this Colorado 4×4 trail is from March to November.
The Old Stage Road gives you access to other trails like Mt. Baldy. It features beautiful wildflowers and ends with a beautiful view of the valley before turning into the Gold Camp Road's southern area.
10. Crow Creek Loop
This off-roading location is also known as the Slaughterhouse Gulch. The name may sound uninviting, but don't let that put you off. This popular Colorado ATV trail offers a fun but challenging off-roading adventure. It's located just outside of Bailey. Getting to the spot takes a little over an hour if you're coming from Colorado Springs.
This trail is almost nine miles long and takes up to three hours to complete. This trail draws crowds because it is near the Front Range. The trail is less likely to be covered in snow because of its relatively low elevation.
With mud holes galore, you're bound to get your Jeep dirty. The mud holes along 101 have been closed, but there are plenty of holes to dip into near 105.
11. Saran Wrap
Saran Wrap is another trail in the Pike National Forest. It's around 15 miles southwest of Colorado Springs. Although the Saran Wrap is a very short trail, some parts can take a few hours to drive through because they're difficult. But you won't have a shortage of fun and excellent photos. There's a great picnic area on the top at the junction, so don't forget to pack lunches!
12. Eagle Rock
This is one of the most challenging off road trails near Colorado Springs, but it offers a fun experience for Jeeps. When you drive up to the trail, you'll need to maneuver your vehicle over a large hill with rocks. But you're going to be rewarded for the challenging climb with scenic views of the Springs. You can bypass obstacles and some challenging parts. However, there are some narrow spots in the woods that you may have to squeeze through.
It's easy to get there from the Springs with your Jeep. Off roading trails near the area vary in their levels of difficulty and are also worth exploring. It's also a beautiful place for camping, so you might want to spend a night there.
Jeep Colorado Springs: Off Road Trail Safety
By now, you might be pumped up with excitement to visit these gorgeous off road trails. You're surely in for an adventure! But keep in mind that adventures come with uncertainty. You'll never know what could happen. Also, these offroad trails could be very different from what you're used to driving on.
ATV and Jeep Off Road Trail Safety Tips
To ensure your safety, follow these off road trail safety tips:
Tell someone where you're going and when you'll be back. Do this wherever you may go, even when you go to places that are easy to navigate. If you get lost or stuck in an area, your family will surely call for help.
Be sure that your survival gear is adequate. Make sure that you have everything you need for any emergency that may occur.
Inspect all parts of your Jeep and your cargo before driving. Make sure that the brakes are working, and your tires are well-inflated. Make sure that your cargo is secure. This all sounds basic, but it could very well save a life.
Tie everything down. You don't want your gear and other items to go flying out of your vehicle and hitting somebody else.
Don't travel alone! Go off-roading with someone who has another vehicle. This way, you'll still have transportation just in case your Jeep gets damaged or stuck. Also, you might need help with problems you might have during your trip.
Make sure that you and your passengers are wearing seatbelts. Some roads may be rough and bumpy, so you're apt to be jounced quite a bit. Also, accidents happen. Remember that you're more likely to make it out alive with your seatbelt on.
Keep arms and legs inside the vehicle. Limbs can get torn off by trees, rocks, and cliff walls in narrow passageways. Resist the temptation to put your hand out when your Jeep starts to tip over. Also, hands off the roll bar. Otherwise, fingers will get crushed in case your Jeep rolls over.
Don't try to pull your Jeep down if it gets stuck in a dangerous position. Never climb on the vehicle or tip it by hand. One wrong move, and it can crush you. Instead, use the appropriate tools and techniques.
When you stop, make sure that the vehicle won't roll-off. Put the vehicle in park and use the emergency brake. Also, remember to turn off the engine.
Rest if you must. Driving on a challenging trail requires a lot of focus. One mistake can lead to an accident. If you get tired, quit and let someone else drive, or get some rest. Either way, it's much safer than forcing yourself to drive.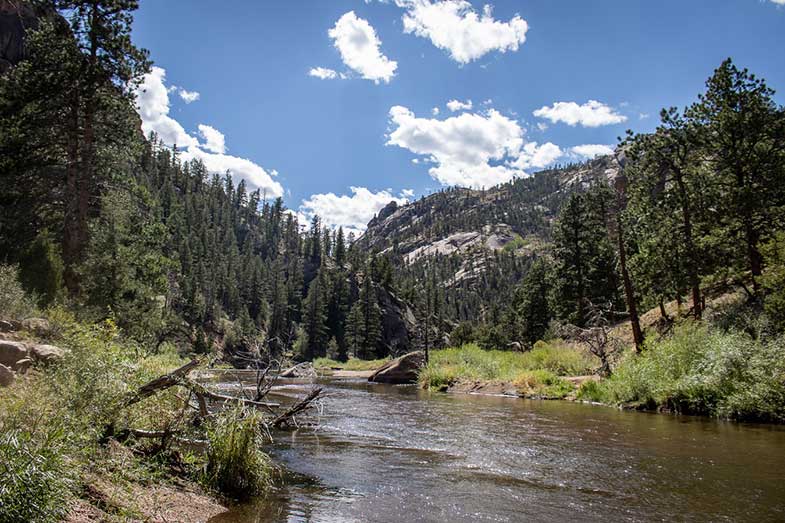 Conclusion – 12 Best Off Road Trails Colorado Springs
So, what are the top off road trails in Colorado Springs? To summarize, here they are:
Mount Baldy
Rampart Range Road
Switzerland Trail
Weston Pass Trail
Grand Mesa Trails
Gold Camp Road
Lower Gold Camp Road
Mt. Rosa
Old Stage Road
Crow Creek Loop
Saran Wrap
Eagle Rock
Colorado Springs is a fantastic place to ride. Find some Jeep off roading trails to explore, adventure, and enjoy what Colorado Springs offers. Most importantly, prepare and be safe.
Some of these offroad trails are easy, but some require some experience and impeccable driving skills. Also, those who venture into these places are bound to find themselves in unfamiliar environments which could be hostile at times. While it is fun and exciting to explore these trails, it always pays to be prudent and careful. Make sure to follow the off road trail safety tips you've just read.
Have a safe and fun drive!