Kawasaki KX500 Specs and Review
Disclosure: We may get commissions for purchases made through links in this post.
To paint the KX500 in words is to describe a mystical dragon – fire-breathing, powerful, and fearsome. For quite some time, only racing enthusiasts truly understood the extent of its potential. In recent years, however, things have started to look up for the lime green champ. And with helpful guides like this one, the Kawasaki KX500's notorious reputation will soon be a thing of the past.
The KX500 was a 499-cc MX-oriented motorcycle produced by Kawasaki from 1983 to 2004. Dubbed as one of the greatest dirt bikes in history, this 2-stroke machine had excellent suspension, monstrous power delivery, and countless MX and desert racing national championships.
One of my favorite allusions to the KX500 is the "motocross version of fine wine." The bike does get better with age – so much so that dirt bike aficionados seem to clamor for its resurrection. Only time and Kawasaki will tell whether this wishful thinking can turn into reality. For now, let us take a closer look into the history, specs, and noteworthy features of this quintessential open-class racer.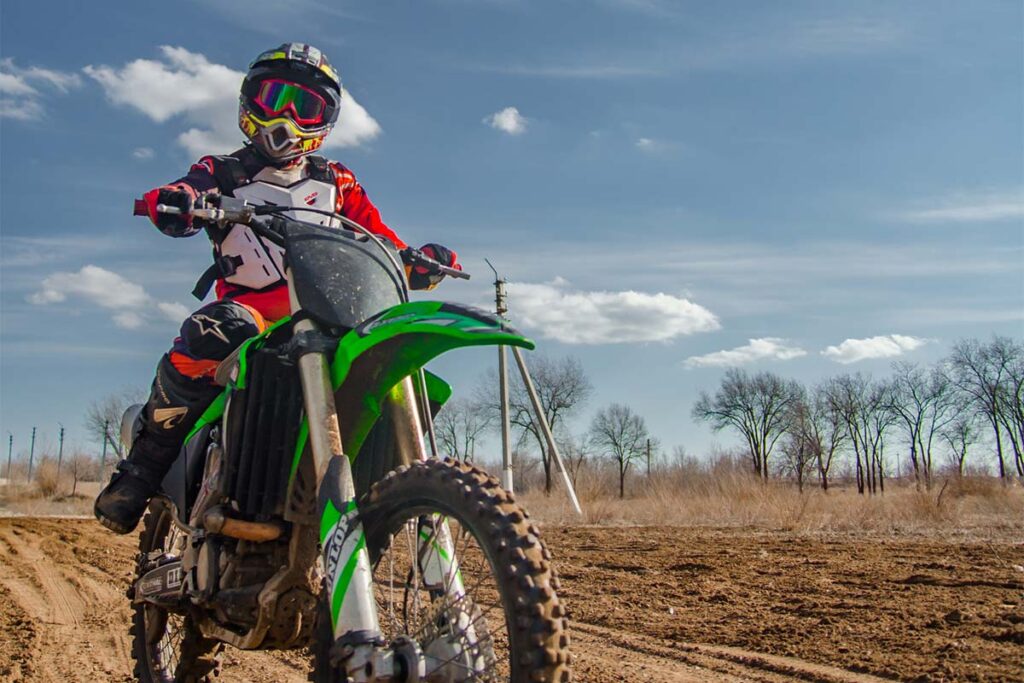 The Alpha and the Omega
Initially described as "unrideable" and "violent" in the June 1983 issue of Dirt Bike Magazine, the Kawasaki KX500 lived to become the most powerful dirt bike ever made. This legend spawned the 500-cc 2-stroke MX bike segment in 1983 and was the same two-wheeler that ended it in 2004. It was, for most people, raw power incarnate. The motorbike's power output was deemed bordering insanity that riders who bravely put their legs over the beast were admiringly referred to as 'real men.'
Four Generations of the KX 500
Introduced to the public in 1983, the Kawasaki KX 500 saw through four generations and released a total of 22 iterations until its outgoing year in 2004. The generations of these bikes were determined based on when major mechanical and design developments were done.
The first two years of the KX500 – '83 KX500-A1 and '84 KX500-A2 models – make up the 1st Gen. These units had an air cooling system and remarkable suspension and were sold exclusively in North America. However, they had an ill-designed combustion chamber, were gravely misunderstood, and, consequently, got poor publication reviews.
Honda CR500's Greatest Nemesis
'85 KX500-B1 and '86 KX500-B2 models comprise the 2nd Gen – it was with this batch, liquid cooling and KIPS (Kawasaki Integrated Power Valve System) were introduced. Paired with Team Green's highly-acclaimed multi-link suspension system and redesigned power mill, these added features placed the KX 500 on the radar of the mighty Honda CR500. However, this newfound competitive edge did not suffice to win the open-class bike at any national MX event.
In 1987, things took a significant turn for the 3rd Gen models. At this time, the bike cemented its position as the most powerful not only in the KX open-class series but also in the entire category. The '87 KX500-C1 was equipped with a lighter, unique piston design and higher compression ratio, dramatically improving power delivery to the point of crazy (but also narrowing aftermarket solutions).
Gloom and Doom
Finally, the Kawasaki KX500 saw its 4th and final generation (KX500-D1 through KX500-E16 models) in 1988. This batch only saw minor revisions in ignition and lighting – the addition of inverted forks in the '90 KX500-E2 being the most significant – and was produced until 2004. The motocrosser did expand its target markets to include Europe, the UK, and Australia. But at this point, the 499-cc KX did not have any formidable competition (not even the CR500) nor any national open-class tournaments to compete in.
Not long after Mike LaRocco's 1993 500-cc Motocross win, the reign of 2-stroke machines drew to a close. Many speculated the reason was either tightening EPA regulations or a marketing strategy in favor of newer, maintenance-hungry two-wheelers. In reality, the 4-stroke revolution started by the 1998 Yamaha YZ400F became the undoing of monstrous 2-stroke machines.
When consumers joined the bandwagon, OEMs had to allocate their R&D funds towards 4-strokes – leaving 2-strokes dry. Expectedly, a loss of interest in the former kings of the racetracks and a huge dip in dirt bike sales followed suit. This series of unfortunate events ultimately led to the Kawasaki KX500's stagnation and demise.
Treading a Different Path
Although the KX500 was intended for MX racing, it found its calling on the dunes. The two-wheeler's first victories were the 1986 National Hare, and Hound events won by Donnie Griewe, followed by back-to-back wins in the Baja 1000 from 1988 through 1996.
This is not to say that it did not perform well in MX racing. The KX500 snatched National MX Championships in 1989, 1990, and 1992 (the first two by Jeff Ward and the third by Mike Kiedrowski). However, the bike's prowess seemed to better meet the requisites of desert speedsters than MX racers (as evidenced by its Desert Nationals wins) that it remains a force to be reckoned with in the arena of desert racing – even to this day.
1988–2004 Kawasaki KX500 Specs & Features (4th Gen)
Engine
The 1988 KX 500 (KX500-D1) is brought to life by a 2-stroke, single-cylinder, piston reed valve engine. The bore-stroke ratio is perfectly squared at 86 x 86 mm (3.386 x 3.386 inches). Displacement is 499 cm3 (30.4 in3), while the compression ratio is 7.1:1. The air-fuel mixture is handled by a PWK39 Keihin carburetor and is mated to a liquid cooling system. All in all, the said configuration lends to a KX500 horsepower of 61.1 hp (45.6 kW, 62 PS) @ 7,000 RPM and a max torque of 64.7 Nm (6.6 kgf-m, 47.7 fta-Ib) @ 6,000 RPM.
Succeeding KX500 engines, however, had incrementally higher performance figures. For instance, the '89 model (KX500-E1) had 6.8:1 (high speed)/7.7:1 (low speed) compression ratios, a 46.7 kW (63.5 PS) power output, and a 65.7 Nm (6.7 kgf-m, 48.5 ft-lb) torque. Meanwhile, KX500-E2 to KX500-E16 trims had 7.4:1 (high speed)/8.3:1 (low speed) compression ratios, a 66.7 Nm (6.8 kgf-m, 49.2 ft-lb) max torque, and spewed 47.4 kW (64.5 PS) horsepower.
Compression, power, and torque values aside, the KX500 top speed rating across all models played around 85-89 mph (137-143 km/h) bone stock. Thankfully, this unofficial rating can be pushed to the 100-120+ mph (161-193+ km/h) range after mods.
Fuel & Lubrication
Tank capacity is 9.9 L/2.6 US gallons of gasoline and applies to all Kawasaki KX 500 models. The owner's manual does not specify whether a regular or unleaded variant is required. At any rate, using high-quality gasoline/petrol (preferably with a minimum RON 91 rating) would be ideal.
Lubrication-wise, the KX500 has a premix lubrication system with a 32:1 ratio. Transmission oil requirement is 0.8 L/0.2 US gallon of SAE 10W-30 or 10W-40 with an API grade of SJ (at least), meeting JASO T903 MA/MB standards. Viscosity grades other than what is recommended may be used following ambient temperature.
Drivetrain
A 5-speed constant mesh transmission (return shift) and a wet, multi-disc clutch assembly deliver power to the wheels. The steering angle is factory-set to 45° on either side, which aids in the bike's maneuverability. A Daido DID 520 DS-5 chain with 114 links handles wheelspin. A similar or MX-style 520 chain (view on Amazon) like an RK Racing 520XSO-114 High-Performance RX-Ring Chain (view on Amazon) may replace it.
1988 KX500 gear ratios:
| | |
| --- | --- |
| Primary Reduction Ratio | 2.538 (66/26) |
| Transmission Gear Ratio – I | 2.000 (32/16) |
| Transmission Gear Ratio – II | 1.450 (29/20) |
| Transmission Gear Ratio – III | 1.181 (26/22) |
| Transmission Gear Ratio – IV | 0.954 (21/22) |
| Transmission Gear Ratio – V | 0.791 (19/24) |
| Final Reduction Ratio | 3.357 (47/14) |
| Overall Drive Ratio | 6.746 @ Top gear |
Front and rear sprockets (14/47T) remained unchanged throughout the motorcycle's lifecycle. However, KX500-E2 to KX500-E16 models (1990-2004 releases) had a different 2nd gear setting at 1.444 (26/18).
Ignition
KX500s come to life via an electronic CDI (Capacitor Discharge Ignition) and primary kick-start system. Ignition timing is 17° BTDC @ 6,000 RPM (later changed to 19° BTDC @ 6,000 RPM for 1990 to 2004 KX500 versions). The MX-style wheeler requires an NGK B8EG spark plug or NGK BR8EG for UK releases with a gap of 0.6-0.7 mm (0.024-0.028 inch) and torque spec of 27 Nm (2.8 kgf-m, 20 ft-Ib). To power electronic accessories, the KX 500 makes use of a large-capacity 12V 8 Ah/(10 HR) YTX9-BS battery (view on Amazon) with assembled dimensions of 150 x 87 x 105 mm.
(Tip: The KDX flywheel is interchangeable with the KX 500 and is sure to wake up the charging system.)
Tires & Brakes
Factory tires consist of tube-type 80/100-21 51M Bridgestone M23 at the front and 110/100-18 64M Bridgestone M22 at the back. Dunlop K990s were used in Europe, with slightly-larger rear tires – 120/100-18 68M – than units sold in North America. 1990-2004 models went through several tire size gradations, eventually adopting the rear tire size of bikes released in the EU but on 19-inch rims. As for brakes, 220-mm/190-mm front and rear hydraulic discs provide the KX500 stopping power and complete its tire-and-wheel assembly.
Suspension
Enclosed in a tubular down-tube frame (28° caster angle, 129 mm/5 inches trail) are front telescopic air forks and a rear Uni-Trak™ swingarm, each setup offering 300 mm (11.8 inches) of wheel travel. Though already generous, Team Green decided to upgrade front and rear wheel travel to 310 mm (12.2 inches) and 330 mm (13 inches) beginning in 1990. Wheelbase for all 4th gen models ranged from 1,490 to 1,500 mm (58.7-59 inches), and minimum ground clearance measured 370 mm (14.6 inches).
Dimensions & Capacities
Overall dimensions of the KX500-D1 are 2,200 x 815 x 1,205 mm (86.6 x 32.1 x 47.4 inches – L x W x H). Width and height stayed the same for succeeding models, although length was shortened by about one-third of an inch (10 mm). Dry weight is 100 Kg (220.5 lbs.), while curb weight is 106 Kg (about 233.7 lbs., combined front and rear). Seat height is approximately 37.4 to 37.8 inches (950-960 mm) – comfortably accommodating tall riders but may be a bit discriminating against smaller bike enthusiasts.
Exterior
The enduro-style bike may appear unchanged on the outside. But it did receive cosmetic updates throughout its run – the majority of which were applied to 4th Gen KX500s. Plastics had always been two-tone but predominantly lime green and were only made more interesting with yearly changes to the graphics/decals. The MX bike initially had a side-access airbox, but that was ditched in 1987.
If you are looking for an irrefutable guide on converting your pre-loved KX500 to look and feel like a million bucks, then advice from veteran mechanics, professional outfitters, and racing legends (Jeff Ward, Mike LaRocco, and the like) would be your best reference. You will gain insight on performance-enhancing secrets and in choosing the right aftermarket brands that are both aesthetic and functional.
Cost of a Kawasaki KX500
| Year – Trim – Model # | List Price | Retail/Trade-In Values |
| --- | --- | --- |
| 1983 KX500-A1 | $2,399 | $400 – $4,645 |
| 1984 KX500-A2 | $2,449 | $400 – $4,645 |
| 1985 KX500-B1 | $2,699 | $400 – $3,990 |
| 1986 KX500-B2 | $2,949 | $400 – $3,990 |
| 1987 KX500-C1 | $2,999 | $400 – $3,990 |
| 1988 KX500-D1 | $3,399 | $400 – $3,990 |
| 1989 KX500-E1 | $3,899 | $400 – $3,990 |
| 1990 KX500-E2 | $3,999 | $400 – $3,270 |
| 1991 KX500-E3 | $4,049 | $400 – $2,555 |
| 1992 KX500-E4 | $4,199 | $295 – $1,905 |
| 1993 KX500-E5 | $4,399 | $355 – $2,050 |
| 1994 KX500-E6 | $4,849 | $355 – $2,195 |
| 1995 KX500-E7 | $5,149 | $295 – $1,760 |
| 1996 KX500-E8 | $5,499 | $315 – $1,920 |
| 1997 KX500-E9 | $5,549 | $315 – $1,675 |
| 1998 KX500-E10 | $4,999 | $380 – $2,030 |
| 1999 KX500-E11 | $4,999 | $395 – $2,065 |
| 2000 KX500-E12 | $5,049 | $360 – $2,300 |
| 2001 KX500-E13 | $5,199 | $405 – $2,480 |
| 2002 KX500-E14 | $5,199 | $470 – $620 |
| 2003 KX500-E15 | $4,999 | $485 – $640 |
| 2004 KX500-E16 | $4,999 | $550 – $725 |
(Source: Nada Guides)
Due to the comeback of consumer interest in the KX500, the bike's resale value has recently gone up. In the used market alone, the bike's pricing ranges from $2,800 to $8,000. There is no noticeable pattern as to which production models are more saleable than others. However, prospective buyers should stay away from anything valued below $1,000. These units are not necessarily junk but may hide behind aftermarket replacements such as a new air filter, sub-frame, front tire, chain, or a not-so-recent top-end rebuild.
Perks of Owning The Beast
Motorcycles (no matter how great) are never perfect – this statement is a given. Additionally, we can all agree that it is the very reason aftermarket companies thrive and continue to improve concepts started by OEMs. That said, let us focus on some of the things the KX500 can bring to the table in this section:
Even in stock form, the KX500 provides no shortcuts on handling and reliability – more so if it were given the right performance-enhancing mods or made street-legal.
The KX500's stock PWK39 Keihin carburetor is a lot better than what its counterparts have.
KIPS makes the Kawasaki KX500 more stable at high speeds and helps reduce (if not eliminate) headshake.
Although the bike's weight and massive power take some getting used to, executing 150-foot jumps on the KX 500 feels more precise than on smaller-displacement bikes.
The KX500 sticks in corners like Velcro, allowing riders to make up a lot of ground with just smooth, fast lines and throttle control.
It is lighter than 250Fs and more powerful than 450-cc 4-strokes, not to mention its engine is far superior to the CR500's.
With mad custom skills and a lot of patience, KX450F bits and bobs can become interchangeable with stock Kawasaki KX500 parts.
For proof of just how positively insane The Beast can get, search up the details of how KX Guru Racing dialed in Sean Collier's 2002 KX500-E14. The task would be daunting and extremely expensive. But the results would be well worth it – a new-age KX 500 with superb brakes, reduced vibrations, plush suspension, and good on-demand power. You will end up with a dreamy open-class bike that turns and handles well.
About Kawasaki
Shozo Kawasaki founded what is now known as Kawasaki Heavy Industries, Ltd. in 1878 – as a parts supply business in Tokyo, Japan. Initially, his objective was to contribute to the modernization of the country's shipping industry. Little did he know that his brainchild company would grow to become a world leader in heavy equipment and other automotive industries. Today, Kawasaki stands as a globally recognized manufacturer of transit systems, engines, defense equipment, rolling stock and ships, and off-road vehicles and motorcycles like the Kawasaki KX500.
Conclusion – Kawasaki KX500 Review
Kawasaki did arrive late to the open-class motocross scene by over a decade. But the Japanese firm made sure to overcompensate with the launch of its open-class legend. Personally, the Japanese firm's efforts proved to be darn successful, as the Kawasaki KX500's standing in MX/desert racing realms and motorcycling history has yet to be contested.