Honda SL70 Motosport Specs and Review (Trail Bike)
Disclosure: We may get commissions for purchases made through links in this post.
Since the advent of the minibike in the '40s, big-name manufacturers have worked hard to bring their innovative motorcycling concepts to fruition. Among these key players was Honda, jumping the wagon with the release of its 1971 Honda SL70.
Let us discover more about this less familiar but highly regarded two-wheeler in this guide.
The Honda SL70 (a.k.a. Honda Motosport™ 70) was a 72-cc motorbike produced between 1971 and 1973. This two-wheeler featured a stockier chassis, oil-damped telescopic forks, and a bright, classic exterior and was one of the first minibikes to utilize a 4-stroke engine and 4-speed manual transmission.
Despite falling behind in popularity to legends like the Z50 Money Bike and the Super Cub, the Honda SL70 was well-celebrated and loved for its practicality and ease of use. It did pretty well in the minibike market and later evolved into the XL70, enhancing the bike's intrinsic dirt-road capabilities.
It is a great keepsake as it is a mini TT racer – so, read on and learn more about this vintage wheeler.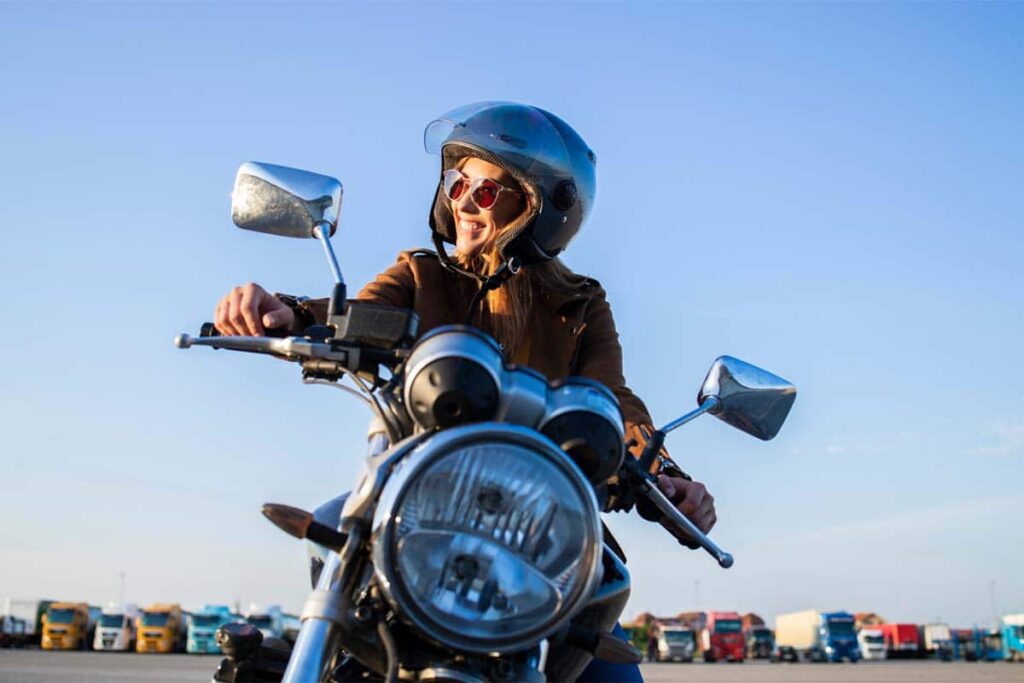 The Honda Motosport™ 70
Some people might say that the Honda SL70 is far from contending with the Yamaha JT1. The latter did get its moniker Mini Enduro for a reason, after all.
If it were on equal footing, the obvious answer would probably be a yes. However, there are areas the Honda Motosport™ 70 shines where the other does not – and vice-versa.
Released between 1971 and 1973, the Honda SL70 was one of the earlier forerunners of the mini Enduro segment, despite ironically entering a bit late into the scene. It was also quite similar to the CT70 series in general styling, feel, and candy colors.
However, it did deviate from the previous norm with its four-stroke engine, 4-speed manual transmission, and the absence of an animal moniker.
It was well constructed and came in a road-legal configuration, one-upping Yamaha's famed JT1 bike by a full production year. Likewise, its suspension is better than the competition in an overall sense.
Its extra weight may have given it a few disadvantages, but it also meant the minibike had a more solid, robust framework. This last bit is what currently makes the bike a favorite among skilled mechanics and savvy owners.
Below is a rundown of all SL70 Honda models released during its three-year run:
| Year / ID | Colors |
| --- | --- |
| 1971-1972 SL70KO | Summer Yellow, Aquarius Blue, Light Ruby Red |
| 1973 SL70K1 | Candy Riviera, Fire Red, Candy Yellow |
A Defeated Overachiever?
Honda has always been acclaimed for its ingenuity, next to its quality. However, this combined approach has not always produced perfect results – as in the case of the Honda SL70.
Having just had major success in 1969 with the Monkey Bike and its out-of-this-world, Dachshund-like features, Honda opted to employ the same tactic. But for the SL70, the firm may have gone a bit overboard with its engineering.
The Honda SL70's small build had little and everything to do with it. Honda did try to design the pocket bike as best as it could. But because of its size, the SL70 ended up being too heavy for its class, affecting its overall performance and making it a choice for enthusiasts into project builds more than for youngsters.
Likewise, it was largely evident that the bike's speed rating and torque output only came second to other 70-cc Honda machines back in the day.
The Honda SL70 was perceived as more of a maintenance-monger than its 2-stroke rivals. This drawback proved to be a blessing for aftermarket parts dealers specializing in turning the anvil-like motorbike into a performance monster, but only years after the minibike's production ceased.
Honda SL70 Specs and Features
Engine
The SL70 Honda uses a single-cylinder 4-stroke OHC engine configuration tempered by an efficient air cooling system similar to its same-class minibike cousins. It has an engine displacement of 72 cm³ (4.4 in³) and a (slanted) horizontal cylinder layout that allows it to conform to licensing standards.
Bore-stroke ratio is 47 x 41.4 mm (1.85 x 1.63 inches), while compression ratio 8.8:1. Although it shares most of its engine specs with the CT70, the SL70 has a slightly smaller 15-mm piston-valve-type Keihin carburetor handling its air-fuel mixture.
Air filtration is a first-rate, oiled polyurethane foam filtering element. Its robust nature lends to the minibike's top speed of up to 32 mph (52 km/h) and horsepower output of 6.44 hp (4.8 kW) @ 9,500 RPM.
However, other publications such as Cycle World Magazine point out the SL70 spewing only as much as 5.0 hp (3.7 kW) @ 8,000 RPM.
Luckily, mods can increase not only the bike's ponies but also its top-speed rating to as high as 77 mph (124 km/h) or more – depending on the increase in bore size, plus other performance-enhancing elements.
Conversion to a PE28mm Nibbi Racing Performance Motorcycle Carburetor (view on Amazon) is sure to double these figures.
Fuel & Lubrication
Fuel tank capacity is 1.7 US gallons/6.4 liters (including reserve) of unleaded gasoline with a minimum PON 87 or RON 91 rating, containing < 5% Methyl Tertiary Butyl Ether, < 10% ethanol, or < 5% methanol with appropriate cosolvents and corrosion inhibitors.
As for engine oil, Honda recommends 0.7 liters/0.74 US pint of Honda GN4 SAE 10W-40 oil or its equivalent to go with the SL70's Forced pressure (wet sump) lubrication system.
Motor oils with an API grade of SJ or higher (without graphite or molybdenum additives) meeting JASO T903 MA/MB standards offer the best results. You may also use alternative viscosity grades following specific ambient temperatures – SAE 30 (above 15° C/60° F); SAE 20W (-10° to 15° C/15°-60° F); SAE 10W (below 0° C/32° F); SAE 20W-50 (above -10° C/15° F).
Drivetrain
The Honda SL70 has a primary kick-starter coupled with a 420 O-ring chain (96 links including joint) that delivers power to the ground.
It veered away from the conventional two-disc wet clutch assemblies found in most of the manufacturer's mini trail bikes and took after the CT70H models equipped with a 4-speed, constant-mesh manual gearbox. However, note that the primary and final reduction ratios between the two are entirely different from each other.
Front/rear sprockets for the 1971 Honda SL70 are 13/44T. Information on gear ratios for this version is quite scarce. But here are the 1st to 4th gear values for the 1973 model (source: MotorbikeCatalog.com):
| | |
| --- | --- |
| Gearshift Pattern | N-1-2-3-4 |
| Primary Reduction Ratio | 3.722 |
| Final Drive Ratio | 3.615 |
| Transfer Gear Ratios | 1st – 2.692 (36/22) 2nd – 1.824 (24/54) 3rd – 1.300 (17/49) 4th – 0.958 (12/89) |
Ignition
The bike's 6V breaker point ignition is by flywheel magneto, with an AC generator serving as its source for lighting and charging system. It requires a 6V 2 Ah/(10 HR) 6N2A-2C/3 or B60-6 battery with assembled dimensions of 2.75 x 1.88 x 4.19 inches (70 x 47 x 106 mm – L x W x H) and an NGK C7HSA spark plug with a 0.6-0.7 mm gap.
In case of spark plug shortage, the NGK C7HSA plugs have at least 19 replacements, including Bosch 0241045001, U5AC, and U6AC types. I highly suggest using this spark plug finder for your convenience.
Suppose you want to make this pocket bike legal for street riding in all 50 U.S. states. In that case, you will need to convert its electrical system to 12V – to be able to support a speedometer kit (view on Amazon), YTX4L-BS battery, and the installation of an electric horn, among other things.
Check with a professional mechanic or your nearest dealer on the next steps for a successful 12-volt conversion. Honda forums are also a great place to start doing some research.
Tires & Brakes
Front 2.50-16 tires and 2.75-14 rear ones are mounted on aluminum rims. These tires are non-interchangeable with those on the Honda Trail CT70 or Z50, as their rims are slightly larger.
They can handle large bumps and ruts but are more adept on smoother surfaces and moderately technical terrain. Hence, the stock tires do better when upgraded to laced wire spokes and bias tires or radials.
As for stopping power, expanding front and rear drum brakes complete the SL70 tire-and-wheel assembly.
Suspension
The single-backbone, double-cradle frame houses front forks, equipped with internal spring units offering surprisingly good damping. Meanwhile, oil-dampened rear shocks are progressively wound but have non-adjustable damping.
This suspension design works well with the bike's 44-inch wheelbase, is bend-resistant, and ensures no flexing while providing 4.4 inches of wheel travel.
Despite being factory-set to feel soft, handling still performs sufficiently off-road, preventing bottoming and reducing rider fatigue beyond what is expected of two-wheelers of this size.
Dimensions & Capacities
The Honda SL70's overall dimensions are 67.5 x 28.3 x 26.5 inches (1,715 x 719 x 673 mm – L x W x H). Compared to the same-class CT70H, it is longer and wider but with a slightly lower seat height.
Many enthusiasts considered these dimensions as just right (the Goldilocks' zone) – a well-loved attribute of the minibike at the time.
Depending on the production year of the minibike, the dry weight could be anywhere from 54-65 Kg (119-143 lbs.), while curb weight with rider weight excluded ranges from 69-72 Kg (152-159 lbs.). Based on these estimate values, the SL70 is only a tad heavier than its same-class counterparts.
It would be safe to say its Gross Vehicle Weight Rating does not exceed 288 Kg (635 lbs.) – although it is best to check this against the specs in the service manual.
Exterior
Unlike the CT70 series, the Honda Motosport SL70 did not have as many iterations or trims. Having run for a short three-year period, the pocket bike released a total of only six (6) body color options, namely – Summer Yellow, Aquarius Blue, and Light Ruby Red (1971-1972); Candy Riviera Blue, Fire Red, and Candy Yellow (1973).
In stock form, it was easy to tell the model years apart. But this may prove difficult for pre-owned bikes that have already received a fresh paint job. Even if the bike underwent a restomod, its later-year models shared the same candy-based body colors with the CT70s.
Provided original body colors were retained, the best way to identify its production year was through its logo, tank-and-shroud finish, and instrumentation.
The first two years of the Honda SL70 had a blue emblem and blue-and-red SL70 logo reading. The Summer Yellow SL70 had a black tank stripe that stood out from the usual white found on the other versions. An analog speedometer was also optional.
Conversely, the 1973 model had its fuel tank and "70" decals in yellow. Base models now included a speedometer, tachometer, and trip meter as a standard feature.
Honda SL70 parts look like they have been borrowed from larger, high-performance Honda motorcycles and were kept to a minimum.
Turning the SL70 Street-Legal
Out of the crate, the Honda SL70 has the requisites to ride legally on-pavement – although not in all 50 U.S. states. The bike's 44-inch wheelbase falls short of the minimum length requirement in two locations.
It initially did not come with a horn or speedometer kit until its final production year. Moreover, its 6-volt electrical system is also a concern and needs to convert to 12V to make light distribution and charging more stable.
With stricter licensing requirements currently in place in different countries, you may probably need more than just instrumentation and a horn for this bike. Equipping it with rearview mirrors, a license plate holder, and DOT-approved tires (among others) is strongly advised.
An aftermarket muffler is optional since the SL70 already has a Krizman U.S. Forestry-approved spark arrester. The same is true with upgrading the bike to 150-/200-cc specs.
Price of a Honda Motosport™ 70
Sources for original list prices of the Honda SL70 are pretty scarce. But per Nada Guides data, resale values fall between $480 and $4,070, with the 1971 Honda SL70 having the heftiest price tag.
SL70s that have undergone a restomod usually sell for $3,100 – a top-end rebuild, aftermarket carburetor upgrade, new paint, 12V batteries, or tires are typically included in this price.
About Honda
The Honda Motor Company Ltd. is a Japanese multinational conglomerate globally renowned for its contributions in the ATV and motorcycle industries. Envisioned at the Art Shokai garage in 1937, the firm was officially founded nine years later and had since wowed its loyal following with its creations, such as the Honda SL70.
From its humble beginnings, mass-producing piston rings, Honda has evolved into a powerhouse in the automotive industry. Today, the company continually upholds its legacy through its plethora of product offerings – including luxury and commercial vehicles, electric generators, robotics, and internavi (telematics).
Conclusion – Honda SL70 Trail Bike Review
Not only are classic bikes like the Honda Motosport™ 70 bulletproof, but they are also admirable in playing their part in motorcycle evolution.
As a guinea pig, the SL70 was a good developmental platform for Honda to correct its designs and measurements. As a trailblazer, it was a great, inclusive minibike that emphasized outdoor fun.
Thanks to this two-wheeled wonder, we now enjoy a variety of miniature options from portable, recreational pocket bikes to serious dirt-road sliders. If you are searching for a nostalgic motorbike that can satisfy the whims of both adults and young riders, then look no further than the Honda SL70!