6 Best ATV Trails Nebraska: Parks & Trail Systems
Disclosure: We may get commissions for purchases made through links in this post.
Nebraska, the Cornhusker State, is known for its forested valleys, rolling plains, and grasslands, making it an ideal destination for your next ATV adventure. Sandhills cover a quarter of the state with towering dunes and rock formations. Wherever you go, you'll be sure to enjoy the region's scenery and varied terrain. So, what are the best ATV trails Nebraska has to offer?
The best places for ATV riding in Nebraska are Samuel R. McKelvie National Forest and Nebraska National Forest, specifically the Bessey OHV Trail System. These scenic areas are perfect for your next adventure. Explore miles of trails with grasslands, marshes, and lakes along the way.
Our top 6 ATV trails in Nebraska are as follows:
Bessey OHV Trail System
Dismal River Trail
Samuel R. McKelvie National Forest
Cedar Run ATV Trail
Off Road Ranch
Fiddler Creek MX
Nebraska's terrain and climate are perfect for ATV riding. There are plenty of trails to explore and exciting destinations to hone your skills while not being too far from campgrounds. Bring the family and enjoy a fun-filled adventure. Here are our most exciting ATV trails in detail.
6 Best ATV Trails Nebraska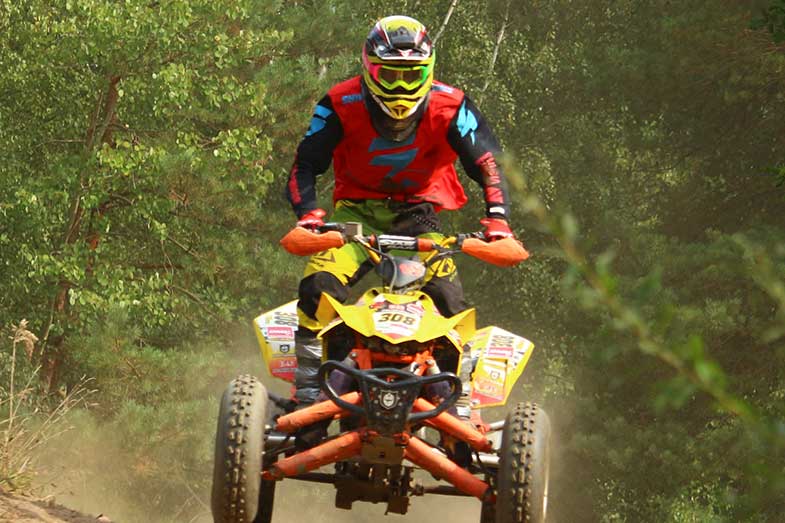 1. Bessey OHV Trail System
Despite the exciting terrain, the state only has a few ATV trails for public use. Many ATV parks in Nebraska are private establishments that require membership fees or amenity charges.
It's a good thing that the Bessey OHV Trail System has a generous number of public Nebraska trails. The trails span approximately 36 miles in total. Some of them are found in the forest, while grasslands surround others.
When it comes to the terrain itself, the trails are quite sandy. Expect some sharp curves as you go further, even if you're on a long, straight path.
Just remember that only more compact ATVs are allowed in the area, specifically those with a width not exceeding 64 inches. Side-by-side (SxS) vehicles can also be used as long as they have the right dimensions.
How exactly can you access the trails? You can park your main vehicle at the Bessey Recreation Complex and start there. You can also start from the Scenic Road because it ends at the Dismal Trailhead, where you can access Bessey's trail system. Other places where you can begin your ATV journey are at the Powerline Trailhead or the Whitetail Campground.
If you're planning to rent an ATV, skip this location. This trail system doesn't offer rentals.
And, since this area is technically for most off-highway vehicles (OHVs), it can be noisy and crowded there. You'll see a lot of dirt bikes and four-wheeled vehicles in peak seasons.
2. Dismal River Trail
While the first location is a trail system, the next one is a specific trail directly connected to the Bessey Family Campground. The Dismal River Trail is only around 11 miles, but many ATV riders will surely appreciate its sandy terrain that's smooth enough for faster rides.
More about the terrain, it's best for intermediate riders but still good enough for beginners and pros. It's uncertain if there are hazards like protruding roots, gravel, and boulders in the area, but you can expect muddy sections and elevations. That's why vehicles like SxS, 4WDs, and motorcycles can be used aside from ATVs.
Using this trail is super-convenient, too. It's near essential facilities like picnic areas and hot showers in the Bessey Family Campground. It can also be accessed through the Whitetail Campground, which is closer to the Dismal River. The Whitetail Campground has fewer facilities, though, so it's better to use the Bessey Family Campground.
Don't forget to prepare some money because you're required to pay fees for a few amenities in the Bessey Recreation Complex while camping.
3. Samuel R. McKelvie National Forest
One of Nebraska's national forests, the Samuel R. McKelvie National Forest, has a massive area spanning more than 116,000 acres or 181 square miles.
Who was Samuel R. McKelvie? He was known as a governor before President Richard Nixon decided to let the Niobrara Division have the area in the 1970s.
What can you expect from this national forest? There are a lot of pine forests and grasslands in the area. Specific trees you can find there are the ponderosa and Scots pines as well as the eastern junipers. As for the fauna, you can spot wild turkeys, hawks, pheasants, foxes, coyotes, and deers, among others.
There is a designated campground you can use. It's fun to stay there for days because it is near the Merritt Reservoir where you can go fishing.
When it comes to its trails for ATV use, they're all open to any motorized vehicle. However, there are limitations in terms of size. Overweight vehicles that are too large based on Nebraska's traffic law aren't allowed.
It could good or bad, but the trails aren't very pronounced. It would feel like you're in the wilderness. But, with the lack of signages, you can get lost easily. You can't even use your phone and other gadgets to pinpoint your location because the reception there is too weak and even nonexistent most of the time. And, don't get us started with the maps provided by the authorities since they're not clear for some adventurers, especially the beginners.
4. Cedar Run ATV Trail
The Harlan County Lake ATV Area, better known as the Cedar Run ATV Trail, is approximately nine miles in length, spanning 470 acres. It's one of Nebraska's ideal locations for ATV enthusiasts even before it is fully developed and established.
One possible reason this area has always been the ideal ATV trail is that many of its sections were submerged in the lake before a long drought happened. The muddy terrain is perfect for more exciting rides on ATVs.
Unfortunately, the trail needs more maintenance nowadays. Some of its sections are too deep and dangerous, especially for dirt bikes and low quads.
This trail is also a little risky since there are two-way paths. You need to be more careful when you use sharp corners. There are even loops that can leave you confused since you'll go back to the same spot twice or more. The path is mostly narrow, which might lead to branches and other plants scratching your vehicle or even your skin.
Rain or shine, this area can be a hassle. If it's too hot, it's not very easy to find a shade. And, if it's raining, just an inch of water covering the ground is already enough reason to close this trail.
5. Off Road Ranch
Great for ATVs, quads, and dirt bikes, the Off Road Ranch spans 30 acres with a drag strip that's 300 feet long, which is more than enough for intense training or just quick trips on your off-road vehicle. The drag strip is sandy, much like most Nebraska ATV trails.
Other activities you can do in the area are snowmobiling during the winter season, camping, competing with other enthusiasts, and even enjoying the beer garden to listen to some talented bands.
6. Fiddler Creek MX
Slightly close to the southwestern part of Iowa, Fiddler Creek MX is a private establishment. Only members can use its track, although it's for public use on weekend competitions and occasional practice days.
While the motocross track is for quads and dirt bikes, the ATV track is much safer since it's specifically developed for beginners and even children. It's wider than forest trails.
As expected, the disadvantage is the membership requirement. You can't go there anytime if you're not a member.
Conclusion – 6 Best ATV Trails Nebraska
It's a no-brainer that Nebraska is the ultimate destination for ATV enthusiasts. With its national forests and private tracks, you can easily find a location based on your preferences.
To summarize, here are 6 popular ATV trails Nebraska has to offer:
Bessey OHV Trail System
Dismal River Trail
Samuel R. McKelvie National Forest
Cedar Run ATV Trail
Off Road Ranch
Fiddler Creek MX
All the trails we've mentioned are quite versatile for off-road vehicles, so don't hesitate to rent or bring another vehicle aside from an ATV.