2005 Honda 400EX Sportrax Specs and Review
Disclosure: We may get commissions for purchases made through links in this post.
A well-known entry-level quad, the 2005 Honda 400EX is one of those classic rides that have attained a near-mythical status – thanks to its reliability and ease of use. It is admittedly a jack-of-all-trades by function and design. And yet, enthusiasts and consumers alike continue to be drawn towards this 400-class quad. In this article, discover what is there to love about this iconic four-wheeler.
The 2005 Honda 400EX (a.k.a. Sportrax TRX400EX) is the 2nd year of the ATV responsible for the resurgence of sport-quad racing. Boasting a 397-cc power mill, Pro-Link rear suspension, 72-mph top-speed, and race-ready aesthetics, the Sportrax continues to be a crowd favorite in the used-bike market.
As part of such a groundbreaking series, the 2005 Honda 400EX holds a lot of promise and, naturally, a lot of room for improvement. The quad continues to mature into a competent race-oriented four-wheeler while still being rider-friendly. Whether the Sportrax successfully achieved this goal in 2005 is left for you to discover as you continue reading today's guide.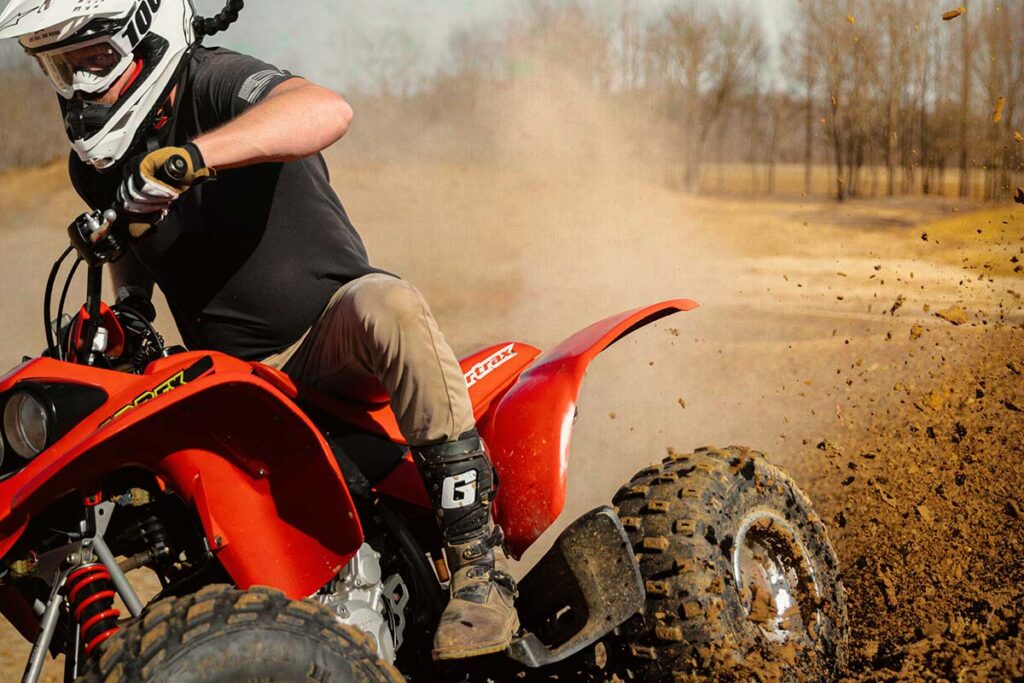 The 2005 Honda Sportrax® TRX 400EX
The 2005 Honda 400EX is the 7th installment of the 400-class Sportrax lineup first introduced in 1999. It is one of the many precursors to present-day 450-cc speedsters and is also credited with bringing sport-riding back to life. It is similar to the preceding '04 model. But to keep things interesting, it introduced several upgrades during its launch.
Facelift for the Sportrax
In 2005, the Sportrax received all-new TRX450R-inspired bodywork. It also received suspension upgrades and gearing changes. The new bodywork was especially controversial and left Honda's following split in two – those that loved the changes and those that did not. Conversely, the gearing tweaks were a tad underwhelming and a huge upset for some Sportrax enthusiasts.
2005 Honda 400EX Specs & Features (2005 TRX400EX)
Engine
The 2005 Sportrax TRX400EX roars to life via an air-cooled RFVC (Radial Four-Valve Combustion Chamber) single-cylinder 4-stroke engine. Piston displacement is 397-cm3 (24.23 in3), while the bore-stroke ratio is 85 × 70 mm (3.35 × 2.76 inches). A 38-mm Keihin carburetor with an accelerator pump handles the air-fuel mixture, augmented by an oiled urethane foam air filtration, 9.1:1 compression ratio, and dry-sump lubrication. This configuration lends to a 2005 Honda 400EX top speed of 65–72 mph and a horsepower of 28 RWHP.
Fuel & Lubrication
Tank capacity is still 10 L/2.64 USgal (including 1.6-L/0.42-USgal of reserve) of unleaded gasoline with a minimum PON 91 rating, containing less than 5% MTBE (Methyl Tertiary Butyl Ether), 10% ethanol, or 5% methanol. Other fuel variants are permissible, provided they meet OEM-recommended specs. Using unleaded gasoline with a lower octane rating is ill-advised, as you risk causing persistent spark knock or engine pinging.
Lube-wise, Honda recommends 1.7 L (1.8 US quarts, after draining) or 2.2 L (2.3 US quarts, after disassembly) of SAE 10W-40 oil or its equivalent. For best results, use Pro Honda GN4 or HP4 4-stroke oils. These engine oils should have a minimum API grade of SJ+ meeting JASO T903 MA standards, without "Energy Conserving" labels and graphite or molybdenum additives. Other viscosity grades specified in the manual are allowed for use following ambient temperatures, altitude, and riding conditions.
Drivetrain
A 5-speed constant-mesh (wide-ratio) transmission delivers power to the wheels. An RK520SMOZ10S or DID520V6 O-ring sealed chain (120 links + joint) also continues to handle wheelspin. But what is new about the TRX400EX's drivetrain is the inclusion of a reverse gear. Here are steps to activate it:
Bring the four-wheeler to a stop, pull in the clutch lever, and depress the shift lever into 1st gear.
Press and hold down the rear brake pedal.
With your left hand still on the clutch lever, place your right hand from the throttle onto the reverse assist lever.
Turn the reverse assist lever clockwise. While doing so, depress the shift lever to reach the reverse gear below 1st gear. Wait for the reverse indicator to illuminate.
Take your right hand off the reverse assist lever, and release the rear brake pedal.
Gradually release the clutch lever and open the throttle to begin driving in reverse.
Apart from adding reverse, the 2005 Honda 400EX also received other powertrain upgrades – including revisions to its sprocket-gear ratios. Except for the primary reduction ratio, the rest of the gearing has been tweaked for sport-ATV use, as seen in the table below:
| Description | 2004 Sportrax | 2005 Sportrax |
| --- | --- | --- |
| Primary Reduction Ratio | 2.826 (23/65) | 2.826 (23/65) |
| Final Reduction Ratio | 2.533 (15/38) | 2.786 (14/39) |
| Transmission Gear Ratio – I | 2.917 (12/35) | 2.727 |
| Transmission Gear Ratio – II | 1.938 (16/31) | 1.789 |
| Transmission Gear Ratio – III | 1.474 (19/28) | 1.363 |
| Transmission Gear Ratio – IV | 1.182 (22/26) | 1.080 |
| Transmission Gear Ratio – V | 1.000 (26/26) | 0.925 |
| Reverse Gear Ratio | N/A | 2.428 |
Controls
Most controls, such as the start button, clutch levers, parking brake levers, headlight/dimmer switches, and engine stop switch, are near the left handgrip. The front brake fluid reservoir, reverse assist lever, front brake, and throttle levers are near the right handgrip. The neutral indicator lamp and ignition switch remain on the center console above the fuel tank cap.
Ignition & Lighting
An electric starting system and Ignition Control Module with an idle speed (in neutral) of 1,400 ± 100 RPM breathe life into the 2005 model. An NGK DPR8Z or Nippon Denso X24GPR-U spark plug with a 0.6–0.7 mm (0.024–0.028 inch) gap is responsible for spark ignition. A single-phase output alternator with a rated output of 0.147 kW @ 5,000 RPM serves as its charging system.
Meanwhile, a 12V 8Ah/(10 HR) YTX9-BS battery (view on Amazon) with assembled dimensions of 150 x 87 x 105 mm (6.00 x 3.44 x 4.19 inches) power electronic add-ons and lighting (itemized below):
| Description | Wattage |
| --- | --- |
| Headlight (Low/High) | 12V 30/30W x 2 |
| Brake/Taillight | LED |
| Neutral, Reverse Indicators | 12V 3.4W |
Tires & Brakes
Factory rubber remains unchanged and consists of 22 x 7-10 M/R 101 front and 20 x 10-9 M/R 501 rear Ohtsu radials with a 4/110 bolt pattern. Front tires are mounted on 10×5.5 AT mags, while rear ones are on 9×8.0 AT rims. These wheels are mated to all-wheel-drive hydraulic discs with brake calipers on all fours (174-mm dual front discs and a single 220-mm rear disc).
Recommended cold-tire pressure for both front and rear tires is 27 kPa (0.275 kgf/cm2, 4.0 psi) ± 15%. When prepping your ATV for riding on dunes or rock-laden terrain, inflate or air down your tires as needed but keep within the range of 23 kPa (0.235 kgf/cm2, 3.4 psi) to 31 kPa (0.315 kgf/cm2, 4.6 psi). More importantly, regularly inspect tread wear and replace your knobbies once tread depth reaches at least 3/16″ (4.0 mm). You can replace rear tires with ITP Holeshot GNCC Off-Road 6-Ply Bias Tires (view on Amazon).
Suspension
Enclosed in a tubular steel frame (7° caster angle; 1.26 inches/32 mm trail) with a removable subframe is an independent, double-wishbone suspension with 5-way preload-adjustable Showa shocks at the front. At the back, the ATV comes equipped with a Pro-Link rear swingarm with a fully adjustable Showa mono-shock. Each unit offers suspension travel of 209 mm (8.2 inches) and 230 mm (9.1 inches).
The wheelbase is 47.9 inches (1,217 mm), while the minimum ground clearance is 4.1 inches (105 mm). The turning radius is 3.2 meters (10.5 feet).
The four-wheeler kept the aluminum chassis and suspension components from the previous year, giving it weight savings in specific areas. Despite that, it still ended up with approximately 13 lbs. more weight due to receiving other upgrades. The Sportrax retained its impressive ride quality, enhanced traction, reduced unsprung weight, and durability.
Dimensions & Capacities
The Sportrax 400EX's overall dimensions are 71.7 x 45.5 x 43.7 inches (1,822 x 1,155 x 1,111 mm – L x W x H). The saddle height is 810 mm (31.9 inches), while the footpeg height is 353 mm (13.9 inches). Dry weight is 176 Kg (388 lbs.). GVWR is estimated at 293 Kg (648 lbs.), including the quad's full tank and a maximum load limit of 110 Kg (243 lbs.).
Exterior
The Sportrax adopts the 450R's nosepiece and looks better in it. It also sports a long, narrow seat with excellent sport-riding ergonomics. 2005 Honda 400EX plastics like the fuel tank, front cowl, and high-clearance fenders retain their aggressive, sport-oriented styling, complementing the nature of the quad. Heavy-duty urethane skid plates protect the Sportrax engine casing and rear brake-disc assembly and are replaceable with 2005 Honda 400EX aftermarket parts in case of wear or damage.
Cost of a 2005 Honda 400EX
The list price of the Sportrax TRX400EX increased by $500 in 2005 – a $5,799 MSRP matching that of the Suzuki Z400. Although the price is considered competitive, it failed to justify the enhancements the four-wheeler received in its drivetrain and suspension. Like last year's, the Sportrax did not have any limited-edition trims and just kept to base models available in Red, Yellow, and Black.
As for auction listings, resale values are between $1,800 and $6,000. This price range is actually higher compared to Nada Guides data, topping only at an average of $2,505. Most of these pre-loved units are found in Washington, Texas, and California, with the best listings in Smart Cycle Guide.
2005 Honda TRX400EX Problems
(Note: Pertinent information on addressing these issue are detailed in your owner's manual.)
Engine Quits or Will Not Start
This problem can go two ways, and the noise your starter motor makes is key to determining what to do next. If you do not hear the starter motor running, check if your ignition or engine stop switch is off or your transmission is not on neutral. Consider a blown fuse, loose battery lead, or a faulty starter motor if these items check out.
Conversely, if the starter motor runs but the engine runs poorly or will not start, you will have to inspect your fuel levels (if up to spec) and the integrity of your spark plugs and battery or battery cables. Also, consider riding conditions, altitude, and the need to change your quad's jetting or idle adjustment. If the issue persists, see your local Honda dealer immediately.
Punctured Tire
Because the Sportrax is often used off-road, getting the tires punctured at some point is inevitable. You may need to do a temporary fix using a plug-type repair kit or replace the affected tire altogether. Sometimes you might even have to replace the rims. The plug-type repair should allow you to get home safely on your quad. But for more serious tire damage, do not even bother driving with the same tires and immediately call for help.
Blown Fuse
If electrical components go out (and to prevent an accidental short circuit), turn the ignition switch off before inspecting the condition of your fuse. Next, access the suspected fuse by removing the seat and the fuse cover underneath. There is a spare fuse, but it is better to have more than one spare fuse before riding your four-wheeler outdoors. Additionally, have a fuse replacement kit (view on Amazon) tucked in your under-seat storage and ready for these situations.
2005 and 2006 Recall
Honda recalled approximately 24,000 units of '05 and '06 Sportrax models due to a safety defect involving the reverse assist lever. As it turns out, the reverse lockout spring was not properly installed in the affected units. This miss resulted in drivers being able to "downshift from 1st gear into reverse without operating the reverse assist (lockout) lever." Although no accidents or injuries have resulted from this flaw, the Japanese manufacturer has received four warranty claims relating to the issue.
Other known issues include poor welding, problematic clutch and gearbox (even after upgrades from the factory), and the quad hitting the rev limiter before it should. The latter usually traces back to a wet air filter choking the engine, a plugged carburetor, or a compromised CDI translating to a connection issue. On the other hand, used bikes may pose challenges with lubrication/fuel lines and front-end mounting brackets.
About Honda
Honda Motor Company Ltd. is part of the Japanese "Big 4" and a world-renowned forerunner of the ATV and motorcycle industries. The firm is also the brains behind the successful Sportrax series and the 2005 Honda 400EX. Based in Minato, Japan, Honda traces its humble beginnings to internal combustion engines and is now well-respected for its prowess and contributions to artificial intelligence, aerospace, and automotive engineering.
Conclusion – 2005 Honda 400EX Review
Out of all the enhancements the 2005 Honda 400EX received, enthusiasts were mostly hopeful about the quad's gearing changes. Unfortunately, the impact of the new gear ratios on the ATV's output were almost negligible. There was no substantial uplift in performance figures coming from these modifications. And the same goes for the other upgrades.
Nonetheless, these shortcomings are not enough to take away from the quad's sportiness and can-do attitude. It may not be the fastest or the most adaptive four-wheeler out there, but its competencies are still far better than most of its counterparts and simply cannot be ignored. If you want a competitively-priced sport quad with a rich history and a few surprising tricks up its sleeve, check out the 2005 Honda 400EX!