2004 Honda 400EX Sportrax (Specs and Review)
Disclosure: We may get commissions for purchases made through links in this post.
Hailing from one of the industry's longest-running ATV lineups, the 2004 Honda 400EX (a.k.a. TRX400EX or Sportrax) was an important milestone in developing current sport quads. Aggressively-styled and fast, this wheeler signaled the revival of the sport-ATV segment and the beginning of 4-stroke quads.
The 2004 Honda 400EX (a.k.a. Sportrax 400EX) is a pure-sport 4×4 responsible for the renaissance of the Sport-ATV segment. Boasting a 397-cc XR400R-inspired engine, Pro-Link rear suspension, 72-mph top-speed rating, and aggressive styling, the quad continues to ride high in today's ATV market.
By conquering the Baja 1000 out of the gate, the Honda 400EX bravely put an end to the aftermath of the 1988 Consent Decree, eventually paving the way for 450-cc racing quads that we know of today. Continue reading this guide and learn more about the specs, notable features, and how this ground-breaking machine changed the sport-ATV scene forever.
The 2004 Honda Sportrax® TRX 400EX
The 2004 Honda 400EX is the 6th installment of the 400-class Sportrax lineup first introduced in 1999. Although not as powerful as present-day 450-cc speedsters, this pure-sport machine was responsible for the resurgence of sport-quad racing shortly after the 10-year ATC Ban suffered by manufacturers across the globe. In a big way, the Sportrax rekindled the riding community's then waning desire for sport riding.
The Game Changer
While most companies were cautious not to trigger another Consent Decree, Honda was busy cooking up the next-generation 4-stroke ATVs. Sure, 2-strokes were still widespread in the market. But if the Japanese firm learned anything from the past decade, vehicle regulations will only get stricter and competition only tighter.
With these new challenges in mind, Honda decided to address the consumer's pent-up demand for a new machine that could satisfy the whims of thrill-seeking racers as well as recreational riders. And since the XR400R received such critical acclaim, Honda decided to use its powerplant as the heart of the TRX 400EX. Conquering the Baja 1000 fresh from the warehouse further proved how well this engine worked with a redesigned ATV framework.
2004 Honda 400EX Specs & Features
Engine
A 397-cm3 (24.23 in3) RFVC air-cooled single-cylinder 4-stroke engine with a bore-stroke ratio of 85 × 70 mm (3.35 × 2.76 inches) brings the Sportrax TRX400EX to life. A 38-mm piston valve with an accelerator pump handles the air-fuel mixture and mates to a compression ratio of 9.1:1 and dry-sump lubrication.
Thanks to RFVC (Radial Four-Valve Combustion Chamber) and an XR400R-adopted power mill, the 2004 Honda 400EX supports a top speed of 72 mph (116 km/h) and a horsepower of 28 RWHP (20.59 kW). Some find the machine's low-end torque lacking, but changing ratios to 14/38, 15/39, or 14/39 and adding a Dynatech CDI box would give you the pull you need.
Fuel & Lubrication
Fuel tank capacity is 2.64 US gallons/10 liters (inclusive of a 0.42-US gallon/1.6-liter reserve) of unleaded gasoline with a minimum PON 92 rating, containing < 5% MTBE (Methyl Tertiary Butyl Ether), < 10% ethanol, or < 5% methanol.
As for engine oil, Honda recommends 1.7 liters (1.8 US quarts – after draining) of SAE 10W-40 oil or its equivalent. For top performance, use Pro Honda GN4/HP4 motor oils with an API grade of SJ+ (without graphite or molybdenum additives) meeting JASO T903 MA standards.
To avoid pinging or spark knock, never use lower-octane gasoline. Although slight pinging should be no cause for worry when riding your 2004 Honda 400EX up a hill or under a heavy load. But if it occurs under normal riding conditions and at steady engine speeds, change fuel brands at once. Consult a professional mechanic if engine pinging persists.
Drivetrain
A 5-speed constant-mesh transmission and a cable-operated wet, multi-plate clutch assembly (with a 1-N-2-3-4-5 gearshift pattern) deliver power to the ground. A DID520V6 or RK520 (view on Amazon) SMOZ10S O-ring sealed chain (120 links + joint) handles wheelspin.
It has a gear-driven counter-balancer that reduces engine vibration and lends to its smooth operation. Plus, dual intake/exhaust ports enable optimal engine efficiency in more aggressive riding conditions. As for the reverse, this feature was introduced in the Sportrax in 2005, alongside other powertrain upgrades.
| | |
| --- | --- |
| Primary Reduction Ratio | 2.826 (23/65) |
| Final Reduction Ratio | 2.533 (15/38) |
| Transmission Gear Ratio – I | 2.917 (12/35) |
| Transmission Gear Ratio – II | 1.938 (16/31) |
| Transmission Gear Ratio – III | 1.474 (19/28) |
| Transmission Gear Ratio – IV | 1.182 (22/26) |
| Transmission Gear Ratio – V | 1.000 (26/26) |
Controls
Most of the controls, such as the clutch and parking brake levers, start button, headlight/dimmer/engine stop switches, are near the left handgrip. Similarly, the fuel valve, choke lever, and gear pedal are on the left side of the engine. Meanwhile, the front brake fluid reservoir, front brake, and throttle levers are near the right handgrip. The neutral indicator lamp and ignition switch are on the center console, above the fuel tank cap.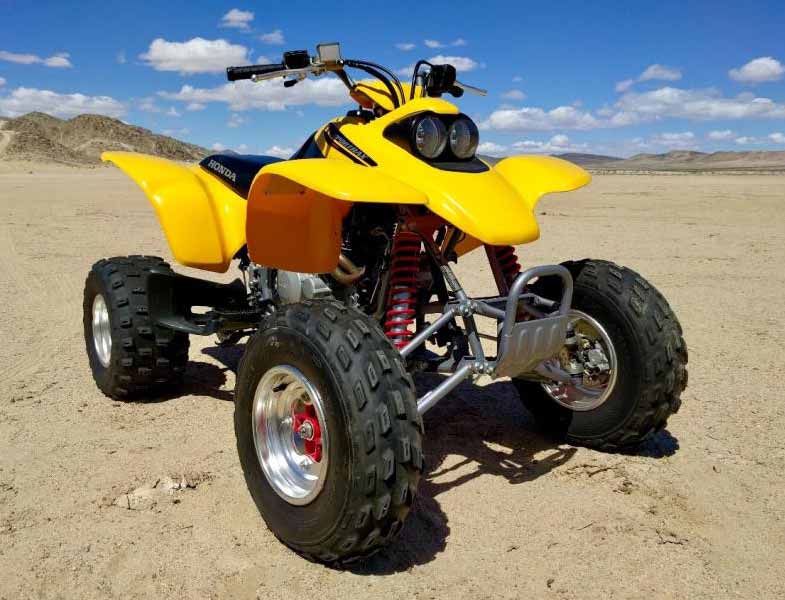 Ignition
An electric starting system and an ICM (or Ignition Control Module) breathe life into the 2004 Honda 400EX. A single-phase (SCR shorted, full-wave) output alternator with a rated output of 0.147 kW @ 5,000 RPM serves as the quad's charging system. It requires an NGK DPR8Z or Nippon Denso X24GPR-U spark plug with a 0.6–0.7 mm (0.024–0.028 inch) gap and a 12V 8Ah/(10 HR) YTX9-BS battery (view on Amazon) with assembled dimensions of 150 x 87 x 105 mm (6.00 x 3.44 x 4.19 inches) to power electronic accessories.
Tires & Brakes
Stock rubber consists of 22 x 7-10 M/R 101 front and 20 x 10-9 M/R 501 rear Ohtsu radial tires with a 4/110 bolt pattern. These knobbies are mated to all-wheel-drive hydraulic discs (174-mm dual front discs and a single 220-mm rear disc) with brake calipers on all fours, which provide the four-wheeler its stopping power. Front tires are mounted on 10 X 5.5 AT mags, while rear ones are on 9 X 8.0 AT rims.
Front and rear cold-tire pressure recommendation is 27 kPa (0.275 kgf/cm2, 4.0 psi) ± 15%. Never go beyond the range of 23 kPa (0.235 kgf/cm2, 3.4 psi) to 31 kPa (0.315 kgf/cm2, 4.6 psi) when airing down or inflating your tires. Regularly inspect tread wear and replace your tires when the tread depth is at least 3/16 inches (4.0 mm).
Suspension
Enclosed in a tubular steel frame with removable subframe are independent, front double-wishbone with 5-way preload-adjustable Showa shocks and Pro-Link rear swingarm with a fully adjustable Showa mono-shock. Each setup offered wheel travel of 209 mm/8.2 inches (front) and 230 mm/9.1 inches (rear). The wheelbase is 48.4 inches (1,230 mm), while the minimum ground clearance is 4.3 inches (110 mm). The turning radius is 3.2 meters/10.5 feet.
2004 Honda 400EX parts such as the cast-aluminum rear swingarm and piggyback Showa shocks lend to the quad's impressive ride quality and durability. Likewise, its aluminum wheels and knobby tires make for reduced unsprung weight, improved grip, and tighter cornering. As if these positives were not enough, succeeding-year models saw further suspension upgrades.
Dimensions
The 400EX's overall dimensions are 72.2 x 45.3 x 43.7 inches (1,835 x 1,150 x 1,110 mm – L x W x H). Seat height is 810 mm/31.9 inches, and footpeg height is 353 mm/13.9 inches. Dry weight is 170 Kg (375 lbs.), while GVWR (Gross Vehicle Weight Rating) is estimated at 288 Kg (635 lbs.) – inclusive of a full tank and the vehicle's maximum load capacity of 110 Kg (243 lbs.).
Exterior
The Sportrax is at the receiving end of new Team Honda-inspired graphics and made available in red, yellow, and black 2004 Honda 400EX plastics. An aggressive front cowl, narrow saddle seat, and high-clearance fenders add to the four-wheeler's pure-sport ergonomics and design. Furthermore, heavy-duty urethane skid plates protect the wheeler's engine casing and brake disc/sprocket at the back.
Cost of a 2004 Honda 400EX
The list price of the 2004 Honda TRX 400EX is $5,299, increasing by only $600 in 2009. This price is considerably more affordable than the 450-class counterparts of the 4×4. The Sportrax did not have any limited-edition trims for that year, which meant its value stayed the same regardless of its body color.
Conversely, auction listings range from $1,500 to $7,499. Most of these units have tons of extras and are found in California, Arizona, and Canada. Preloved quads within the $2,000-$3,500 range typically come with aftermarket parts like Alba Racing pipe, paddle/dirt tires, K&N filter, Nerf bars, and new seat cover. There are also rare (but pricier) finds that have only one or two former owners.
Sportrax 400EX Common Problems
Known issues with the 2004 Honda 400EX are similar to other ATVs and include problems with the transmission or engine, fuses, and tires. You can find solutions to these incidents in your service manual. But if you do not have one yet, let this section serve as your reference:
Starter Motor Doesn't Work
One of four things could be responsible for this issue and are worth checking – all of which are electrical components. The most common culprit is non-working ignition or engine stop switches, followed by a corroded or defective battery. Usually, owners discover problems with the fuse and starter motor last. In some instances, it could also be due to something as simple as not being in neutral when working the gears.
Engine Won't Start
You may notice that your starter motor is attempting to turn your engine over, but the latter won't budge. At this point, your problem may be coming from a flaw in one of your electrical or fuel system components. Inspect that your spark plug and battery have not come loose and your battery is sufficiently charged. If these check out, then you are most likely experiencing engine flooding or running out of fuel.
Pinging / Rough Idling
While slight pinging is acceptable under heavy load or on steep inclines, it should not occur anywhere else. If it does, you will have to either adjust the idle to spec or change your fuel to a manufacturer-recommended variant. More often than not, these steps resolve minor engine noise problems. Otherwise, consult the nearest dealer to have a quick look at your quad.
Flat Tire
Getting your tires punctured or damaged cannot be helped, especially since the 2004 Honda 400EX is sought for racing applications. If so, a makeshift fix would be to plug the punctured area of the tire until you can have it permanently repaired or replaced. Depending on the severity of the damage, you may need to replace your rims as well. Under no circumstances should you continue riding on a flat tire, lest you run the risk of a crash.
Blown Fuse
Checking your fuse the moment any of your electrical components stop working is a given. It is the first thing to inspect before looking elsewhere in your four-wheeler. You can access your fuse by removing the seat and fuse case cover. Just make sure to turn your ignition switch off before looking at your fuse to avoid an accidental short circuit.
Other than the challenges mentioned above, the clutch and gearbox can prove problematic, especially for heavily modded units, turning out to be the Sportrax's weakest points. The OEM head can also be severely damaged and may require re-plating or a complete replacement.
About Honda
Honda Motor Company Ltd. is a world-renowned pioneer of the ATV and motorcycle industries and the brains behind the 2004 Honda 400EX. Headquartered in Minato, Japan, Honda is highly regarded for its prowess in automotive engineering, artificial intelligence, and aerospace – ventures the company entered into only in the last four decades. Internal combustion engines particularly speak of the company's humble beginnings.
Conclusion – 2004 Honda 400EX Review
The 2004 Honda 400EX held a lot of promise when enthusiasts had hoped the quad received more upgrades to make it GNCC-competitive. Unfortunately, that did not happen as its design remained virtually unchanged until its final year. However, to describe the Sportrax 400EX as lackluster would be a stretch.
Its inability to dominate the motocross racetracks does not make the 400EX any less of an award-winning sport quad. Nor does the lack of race-worthy upgrades undermine its capabilities off-road. If anything, it is these inadequacies that make it more endearing and notable. What's there not to love about an imperfectly perfect quad?