12 Best Wisconsin Dirt Bike Trails & Tracks
Disclosure: We may get commissions for purchases made through links in this post.
Situated in the Great Lakes and featuring excellent geographic diversity, Wisconsin is a popular state to visit for dirt bike riding. Off-road enthusiasts can find some exciting trails through woodland or rocky terrain. Combine that with hunting and fishing, and you can have a very outdoor-oriented stay in Wisconsin. So, where are the best Wisconsin dirt bike trails and tracks?
Here are 12 great places to ride your dirt bike in Wisconsin:
Nemadji State Forest
Bong State Recreation Area
Dyracuse Mound Recreation ORV Area
Pecatonica State Trail
Cheese Country Trail
Black River State Forest
Cattail Trail
Dead Horse Run Trail
Knobby Ridge Trail System
Wild Rivers Trail
Douglas County Off Highway Motorcycle Trails
Tri-County Corridor
These trails offer a range of views and challenges and will have you enjoying single track, technical, or rolling terrain, while taking in some fantastic new sights and experiences.
12 Best Wisconsin Dirt Bike Trails & Tracks
1. Nemadji State Forest
This forest is located along the border between Wisconsin and Minnesota and has 100 miles of trails for dirt bike riders, ATV riders, and OHV drivers. Moreover, 27 miles are single-track only, allowing only dirt bikes and motorcycles on them. With twisty, winding trails with tight corners, Nemadji State Forest is bound to challenge you and make for some fun riding.
The trail systems here don't just stick to the state forest, allowing you to continue riding further along on the Gandy Dancer Trail or Matthew Lourey Trail too. For additional fun, you can also go fishing and hunting, and dispersed camping is allowed.
2. Bong State Recreation Area
This 10-mile dirt trail for bikers can be found in the Richard Bong State Recreational Area in Kenosha County, WI. There are three dirt loops available to ride, crossing prairies and wetlands. This is probably the most popular dirt bike track in Wisconsin, known all over the country.
Bong State Recreational Area, more widely, extends over 4,515 acres from the town of Brighton and is effectively a managed prairie. There is a wildlife preserve where you'll find great egrets, sandhill cranes, and other rare birds, and you can enjoy lots of different outdoor activities, including horseback riding, hunting, and fishing here.
3. Dyracuse Mound Recreation ORV Area
You will find two dedicated dirt bike trails in the Dyracuse Mound Recreation ORV Area for 8 miles of riding across 250 acres.
The trails go through the woods, and there is also a large mud bog play area and a supercross, peewee, and motocross track for added fun. Expect light muddy and sandy trails and not a lot of climbing, so some fast routes. You'll find Dyracuse Mound just 15 miles south of Wisconsin Rapids, but check their Facebook for information on opening times and rules.
4. Pecatonica State Trail
Some of the best parts of Wisconsin are near Calamine, where you'll find the Pecatonica State Trail. This tops most dirt biking lists and follows an old railroad through 10 miles of twists and turns, arriving at the state's former capital city. Pecatonica River is incredibly scenic, and you'll also be riding across farmland, checking out historic buildings, and generally having a fantastic immersive trip in the history of Wisconsin. If you ride east, you arrive in Calamine, where you can connect to the superb 47-mile Cheese Country Trail.
If you take the trail west from Calamine, it ends in Belmont, connecting to the Mound View State Trail.
5. Cheese Country Trail
Wisconsin is best known as the Cheese Country because of its large dairy farms, so much so that this is one of the symbols the whole world will associate with the state. No wonder they have a Cheese Country Trail!
This trail extends over 47 miles through Iowa, Lafayette, and Green counties, covering all sorts of landscapes from rolling hills to forests and bluffs. It's also been called "the mecca of dirt bike bliss"!
To make it even more popular, there are campgrounds and many restaurants, lodging, and shopping options along the way. Moreover, you can try your hand at horseback riding, snowmobiling, and plenty of other outdoor pursuits along the trail too.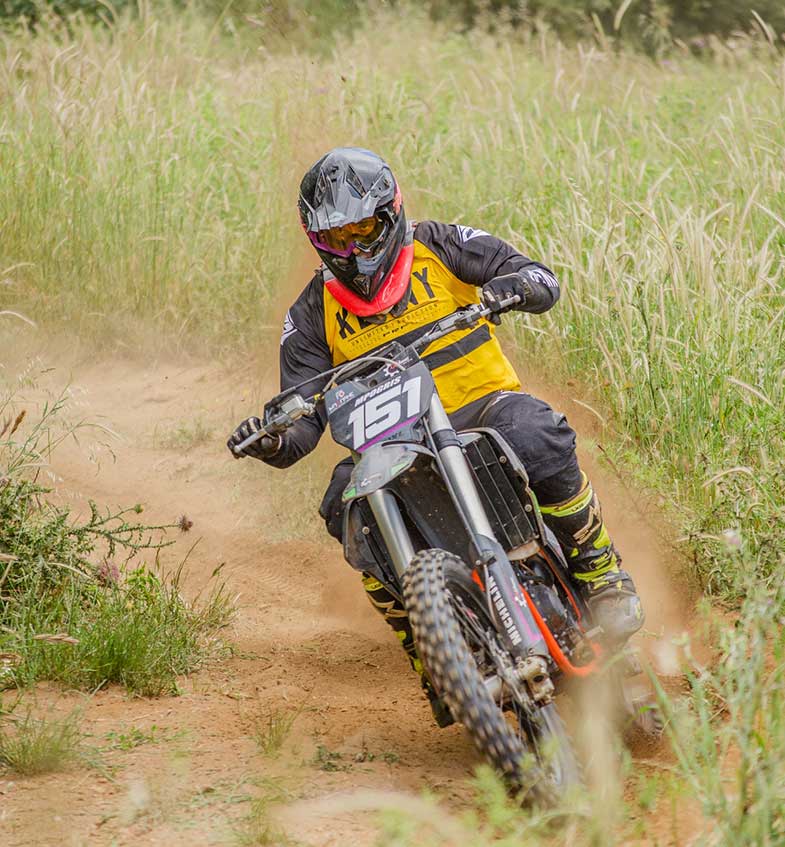 6. Black River State Forest
33 miles of ATV and dirt bike tracks in Wisconsin are available in the Black River State Forest in Jackson and Clark counties. These trails are open all year and include camping and picnic areas and shelter. Your bike will need to be street legal to ride here and registered with the DNR as an off-highway motorcycle (OHM). Find out more here.
7. Cattail Trail
Head to Polk County for 13 miles of riding on a graveled rail bed on the Cattail Trail. You can ride dirt bikes here in spring, summer and fall, and you can also connect to Sawmill County Trail, Sterling County ATV Trail, and Gandy Dancer State Trail, all maintained for use by the Polk County officials.
What makes Cattail Trail special is the amount of wildlife you're likely to encounter as you cross from Amery to Almena. It's also a multi-use trail, so it's worth looking out for other riders on mountain bikes!
8. Dead Horse Run Trail
The Dead Horse Run Trail is 56 miles long and crosses Price, Ashland, and Sawyer counties. It's open from May 1st to March 14th every year and has two access points: the Camp Loretta Trail Head near Loretta, WI, and the Dead Horse Slough Trail Head located on the north side of State Highway 77, beside Dead Horse Slough.
Expect beautiful forest trails with rolling terrain for your dirt bike rides here in the Chequamegon-Nicolet National Forest. You'll also be able to connect with more great trails: the Tuscobia State Trail and Flambeau Trail.
9. Knobby Ridge Trail System
This is another premier destination for dirt bike trails in Wisconsin. Located in Clark County, the Knobby Ridge Trail System has 16 miles of looped trails through the forest, and it's only open to dirt bikes, so you'll have the trails all to yourself.
You can also enjoy camping in the County Forest, and there are picnic areas and toilets on-site, too. Trails open from May 15th to October 31st and then again from December 15th to March 15th. You can find out more about requirements to ride, as well as maps, here.
10. Wild Rivers Trail
The Wild Rivers Trail is another excellent dirt bike riding destination: it runs for 104 miles through Douglas, Washburn, and Barron counties in northwest Wisconsin and offers a range of scenery and wildlife along the way. You're allowed to ride here all year round, and the trail is also open to horseback riders and snowmobiles, depending on the season. It's completely free to ride and considered easy from a technical point of view, but rewarding thanks to the beauty of the scenery you cover and the many other sports you can also engage in while you're there.
The Wisconsin DNR has put together some useful information, including on trail etiquette, which you can consult here to be up to speed with how to share the trail with others and thoroughly enjoy it.
11. Douglas County Off Highway Motorcycle Trails
Douglas County maintains a great network of dirt biking trails over 5 miles, in the middle of many other networks of trails totaling up to 45 miles and taking you into Montana as well. This is a very popular destination for dirt biking in Wisconsin, thanks to the excellent riding conditions and the location placing you close to amenities and more trails.
You can find a brochure and map here, as well as more information about the state of the trails and their opening times.
12. Tri-County Corridor
This last top dirt biking trail in Wisconsin is named to reflect the fact that it crosses Ashland, Bayfield, and Douglas counties on its almost 62 miles. You can get onto it in Ashland, at the Ashland Marina, or via the Osaugie Trail in Itasca.
Expect a mix of rocky terrain and some paved portions, and you'll be sharing the trail with ATVs, cyclists, and even horseback riders. It's a secluded, peaceful trail with lots of wildlife and crossing beautiful rivers and forest landscapes.
The bonus with this dirt bike trail is that you can then connect to the Osaugie Trail to carry on further west once you're done riding this one. The Tri-County Corridor trail doesn't have many amenities, so be prepared with some extra food and supplies.
Conclusion: Wisconsin Dirt Bike Trails Are Hard to Beat
To review, here are our top 12 Wisconsin dirt bike trails:
Nemadji State Forest
Bong State Recreation Area
Dyracuse Mound Recreation ORV Area
Pecatonica State Trail
Cheese Country Trail
Black River State Forest
Cattail Trail
Dead Horse Run Trail
Knobby Ridge Trail System
Wild Rivers Trail
Douglas County Off Highway Motorcycle Trails
Tri-County Corridor
For this mix of incredible scenery, a good level of amenities, and a friendly atmosphere, Wisconsin is hard to beat for a dirt biking adventure. You'll not only get to enjoy lots of different outdoor pursuits if you head out there for a holiday, but you'll also be challenged on the dirt bike tracks, without it ever becoming so technical that you're not enjoying yourself. There's something for everyone here, from the historic trails to the more modern, well-maintained ones in state forests.