Kawasaki KFX 700 Specs and Review
Disclosure: We may get commissions for purchases made through links in this post.
If Honda's King of the Hill is the 700xx, for Kawasaki, it is the KFX 700. Also known as the V Force or simply "V," this 697-cm3 V-Twin-powered quad takes the best of the Brute Force and Prairie product lines and combines these sought-after features in one iconic four-wheeler.
With its lime green body panel, racing-inspired front frame, and 22-inch wheels, it definitely looks the part of a behemoth, earning itself the moniker Monster Truck of the Quad World.
Known as Team Green's ultimate four-wheeler, the Kawasaki KFX700 is one of the first mass-produced quads to boast an impressive powerband, V-Twin engine, and limited-slip front differential. Designed for dunes and wooded trails, this dual-purpose quad is a favorite among cross-country racers.
The KFX 700 was created with Kawasaki's winning formula – a powerful V-twin engine, a racing-style chassis, and an automatic belt-driven transmission. These elements not only make up the machine's key selling points but also its aggressive manners.
Indeed, the Kawasaki KFX 700 is proof that combining old proven concepts can give birth to ingenious off-road vehicles – as you will discover in this article.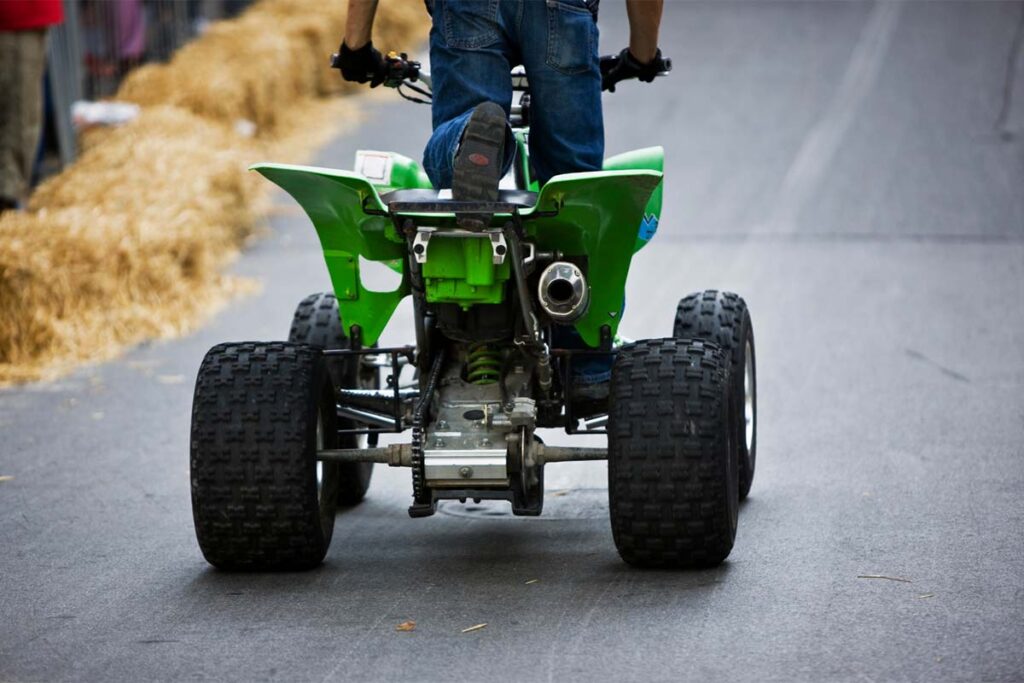 Team Green's Monster Truck
The Kawasaki KFX 700 is known by many names – "point and click" bike, green hornet, "V" – among others. But my personal favorite is the description above. It perfectly fits this massive, powerful machine that can run circles around race-ready 400-/450-class quads and fuel-injected big-bore four-wheelers.
Introduced in 2003, the KFX 700 hit the ground running with its practical features and remarkable capabilities. It enjoyed a six-year production run in the US and was sold up until 2011 in Europe.
Although initially marketed as a pure sport quad, the wheeler fit the sport-utility category better. This was largely attributed to its utility-heavy roots, having taken after the overall functionality and design of the Prairie and Brute Force ATVs. Niche aside, the KFX 700 soon joined the ranks of its highly acclaimed predecessors.
Trail Machine
The KFX 700 mostly feels at home in wide-open spaces but also performs effectively on tight trails. Its CVT transmission brings out the motor's usefulness and keeps riders in the middle of the powerband.
Steering is surprisingly light and easy and lends to this heavyweight's maneuverability on both slow-crawling sections and muddy surfaces. Compared to the Brute Force, the KFX 700 offers a firmer, out-saddle ride with less body roll – thanks to its dual A-Arm front suspension.
While this brute is excellent for drag racing, it is not recommended for MX tracks due to its weight. A skilled rider will have no problems handling the bulky 4×4, but the vehicle's design is intrinsically geared toward being a trail machine.
You can fit widely spaced rollers and other enhancements on the quad, but these will not make it impervious to damage if it gets rolled or the whoops get too deep. Nevertheless, the KFX700 is a torque monster and is excellent for riders who have grown tired of shifting.
Advantages and Pitfalls
The Kawasaki KFX 700 is indeed a well-balanced machine, immediately embraced by consumers during its release in the market. It was recognized as the closest thing to a perfect trail quad and held on to that accolade for the next three years after its launch.
But with recent ATV developments (and the fact that most KFX 700s are pre-owned), the design and condition of this machine may no longer fall under the category of near-perfect. Hence, it would be best to know some of the pros and cons of this legendary beast, especially if you are musing over buying one:
Pros:
The front brakes offer an excellent feel, while the rear brakes are a bit less solid at the lever, sometimes unnoticeable. But the multi-disc rear brake compensates for its lack of feel with power and durability.
An internal rear brake, stock 22-inch tires, and the ring-and-pinion setup allow for more ground clearance.
The KFX 700's midsection is reasonably narrower than its big-bore counterparts. Many riders find the super-long saddle comfortable.
Its handlebar bend feels good, and the relationship between the seat, handlebars, and footpegs makes for pleasant long rides.
The V Force offers additional ground clearance over a chain drive – a plus when it comes to roughing up the quad.
Very few 2WD machines get off-roaders to where they want to go, provided that the intent is not to grow wings on the vehicle and fly through the woods.
Acceleration-wise, it will hang its competition for a little bit but will eventually get passed by.
Cons:
Enthusiasts wish for a more traditional engine braking system that would halt the four-wheeler without engaging the throttle. This change would be advantageous to nouveau riders, who may find it challenging to apply the gas while going down long descents.
Although it was marketed as a pure-sport quad, some riders find it a little too heavy for the sport category. Not to mention it gives off a lazy handling vibe due to its bulkiness.
Stock plastics (especially special edition ones) seem too fragile and break when you touch them incorrectly, without even wrecking the 4×4.
The absence of a digital dash meter is an issue, compelling owners to buy aftermarket Kawasaki KFX 700 parts to fill in the gap.
Riders feel that the vehicle's low-end grunt and power could have been better utilized if the machine had built-in racks or storage space.
Top-end speed is not the best in its category. Because the quad is fully automatic, it does run out of gearing, especially against manual-tranny four-wheelers that can still pull RPMs in 5th or 6th gear.
Generally, the Kawasaki KFX 700 does the job exceptionally well if based on its intended use. It would be a fantastic choice if you prefer lazy riding, cruising on fire roads and beaches, or even drag racing. But if you are coming off a smaller, nimbler pure-sport quad, you may find this beauty a bit odd.
Kawasaki KFX 700 Specs & Features
Engine
The Kawasaki KFX 700 borrowed its V-Twin power mill and rear-end shaft drive from the Brute Force lineup, confusing some riders into thinking that the vehicle is fuel injected. However, it is not.
The 4×4's dual Keihin CVKR-D32 downdraft carburetors are plenty enough to make it fuel-efficient. But if you need to maximize the capabilities of the KFX 700 engine, you can always mod it for EFI.
Engine Type
4-Stroke SOHC
Cylinder Arrangement
V-Twin, 90° cylinder offset
Carburetion System
Carburetor, Keihin CVKR–D32 x 2
Engine Cooling
Liquid cooling
Fuel Capacity
12 L/3.2 US gal
Bore x Stroke Ratio
3.23 × 2.6 in
Compression Ratio
9.9:1
Starting System
Electric
Displacement
697 cm³ / 42.5 in³
Maximum Power
48.7 hp/49.4 PS (36.3 kW) @ 6,500 RPM
Maximum Torque
59.2 Nm (6.04 kgf-m, 43.67 ft-lb) @ 5,000 RPM
Top Speed
76.4 mph (123 km/h) – owners' claim
Air Filtration
High-quality foam element
Engine Oil & Quantity
1.8 US quarts w/ filter; 2 US quarts w/out filter
2.3 US quarts at disassembly
SAE 10W-40 w/ API grade of SJ meeting JASO T903 MA
SAE 5W-30, 10W-30, 10W-50, 15W-40, 15W-50, 20W-50 – depending on ambient temperature
Drivetrain
A mono-speed automatic KAPS (Kawasaki Automatic Powerdrive System) CVT transmission, inclusive of a reverse, handles the shifting. The auto-transmission-and-V-Twin-engine combo eliminates RPM and shifting concerns, giving riders maximum powerband and allowing them to choose good lines every time they ride.
To compensate for the lack of bounce, the well-mannered chassis is narrowed down to a single spar at the front. Furthermore, the Kevlar drive belt enhances the quad's acceleration.
Clutch
Wet, multi-plate type
Transmission Type
1-speed and reverse
Drive System
(Cardan) Shaft 2WD, (Kevlar) Belt drive torque converter
Primary Ratio
3.122 – 0.635
Final Drive Ratio
4.375 (35/8)
Transmission Gear Ratio

Forward – 2.416 (29/27 × 27/20 × 20/12)
Reverse – 4.285 (16/12 × 20/14 × 27/20 × 20/12)
Ignition
The KACR (Kawasaki Automatic Compression Release), paired with an electric starting system, makes starting the four-wheeler a breeze.
A three-phase A.C. generator provides quick, accessible power for electronic accessories.
The KFX 700 uses a YTX14-BS battery – rechargeable, leak/spill-proof, and vibration resistant.
| | |
| --- | --- |
| Ignition | Digital DC-CDI (Capacitor Discharge Ignition), electronically advanced |
| Ignition Timing | 5° BTDC @ 1,100 RPM to 28° BTDC @ 5,000 RPM |
| Spark Plug, Gap | NGK CR7E, DENSO U22ESR-N, gap (0.7-0.8 mm, 0.028-0.031 in) |
| Alternator Type | Triple-phase A.C. generator |
| Rated Output | 25 A, 14V @ 6,000 RPM |
| Fuse | 30 Amp |
| Battery | 12V (14 Ah), YTX14-BS formats (view on Amazon) |
| Battery Dimensions (L x W x H) | 150 x 87 x 145 mm (6 x 3.44 x 5.75 in) |
Tires & Brakes
Dual front hydraulic disc brakes with dual-piston calipers, enclosed oil-bathed multi-disc rear disc brakes, and sticky tubeless knobbies provide this mean machine stopping power. Stock rubber later changed to same-size GNCC-tested ITP® Holeshot® tires for the 2006 model.
Recommended tire pressure is 4 psi/5 psi (front/rear) but can adjust according to terrain, rider weight, and riding style. Avoid overdoing it, as too much pressure will make for a harsh ride and traction issues.
| | |
| --- | --- |
| Front Rim Size | 10 x 5.5 |
| Rear Rim Size | 10 x 8.5 |
| Front Tire, off-road/road air pressure | Tubeless, Carlisle Holeshot XC AT22 x 7-10, 27.58 kPa (0.28 kgf/cm2, 4 psi) |
| Rear Tire, off-road/road air pressure | Tubeless, Carlisle Holeshot XCT AT22 x 11-10, 34.57 kPa (0.35 kgf/cm2, 5 psi) |
| Front Brake Type | Dual hydraulic discs w/ twin piston calipers |
| Rear Brake Type | Enclosed wet multi-plate |
Suspension
Although it loaned its engine and other components from the Brute Force, the KFX 700 underwent several changes to increase its sporting performance – including an all-new chassis and dual A-arms instead of the Brute Force's McPherson struts (view on Amazon). The long, flat angle of the A-arms provides excellent handling by reducing tire scrub during up-and-down suspension travel.
| | |
| --- | --- |
| Frame Type | High-tensile tubular steel, double-cradle |
| Caster, Trail | 4.5°, 20 mm (0.79 in) |
| Turning Radius | 3.2 m (10.5 ft) |
| Front Suspension Type, Travel | Double A-arms w/ coil-over shocks (5-way adjustable preload), 236 mm (9.29 in) |
| Rear Suspension Type, Travel | Linkless swingarm w/ piggyback reservoir shocks (spring preload, rebound & compression damping adjustable), 200 mm (7.87 in) |
Dimensions
Despite its larger displacement, the KFX 700 has slightly smaller overall dimensions than the Brute Force 650. It also has an adequate ground clearance that makes it perfect for trail riding and going over rough and bumpy surfaces. Taller riders would have no problem handling the vehicle's 516-lb dry weight, but smaller off-roaders might.
Exterior
Team Green's King of the Hill has a great look. Its rugged charm and sport-style saw-toothed footpegs allow all-out rider mobility and control.
Accompanying footrests provide added comfort for long trail rides. Like other Kawasaki ATVs, it does fall short on instrumentation. Luckily, getting a Trail Tech 752-118 Black Vapor Digital Gauge Kit (view on Amazon) as an add-on resolves the issue.
| | |
| --- | --- |
| Indicator Lamps | Standard |
| Fuel Gauge | Standard |
| Engine Stop Switch | Standard |
| Headlight | Semi-sealed beam, 12V 45W/45W x 2 |
| Brake Light/Taillight | 12V 21W/5W |
| Indicator Lights | (neutral, reverse, fuel, water temp, belt indicator, oil pressure warning lights) |
| Colors | Lime Green, Metallic Marble Red, Blazing Orange, Black, Camouflage, Black Marble, Meteor Blue (E-03 USA; E-28 Canada; E-33 California) |
Price of a Kawasaki KFX 700
Here is a table that shows the MSRP and retail pricing of all Kawasaki KFX 700 models produced from 2004 to 2009: Auction listings without aftermarket upgrades would be similar to the trade-in values specified below.
To improve certain mechanical components of your quad, eliminate some of its known issues, and make it race-ready, you may need to spend an extra $2,000 to $5,000.
(Source: Nada Guides and Kelley Blue Book)
| Year – Trim – Model Number | List Price | Retail/Trade-In Values |
| --- | --- | --- |
| 2004 Kawasaki KFX 700 KSV700A1 | $6,499 | $1,260 – $2,640 |
| 2005 Kawasaki KSV700A2 | $6,499 | $1,440 – $2,835 |
| 2005 Kawasaki KSV700B2, IG | $6,799 | $1,530 – $2,010 |
| 2006 Kawasaki KSV700A6F | $6,499 | $1,600 – $3,030 |
| 2006 Kawasaki KSV700B6F, IG | $6,799 | $2,075 – $3,055 |
| 2006 Kawasaki KSV700C Camouflage | N/A | $2,055 – $3,030 |
| 2007 Kawasaki KFX 700 KSV700A7F | $6,499 | $1,840 – $3,220 |
| 2007 Kawasaki KSV700B7F | $6,799 | $1,840 – $3,220 |
| 2008 Kawasaki KSV700A8F | $6,499 | $2,065 – $3,415 |
| 2008 Kawasaki KSV700B8F | $6,799 | $2,065 – $3,415 |
| 2009 Kawasaki KSV700A9F | $6,849 | $2,620 – $3,595 |
| 2009 Kawasaki KSV700B9F | $7,149 | $2,620 – $3,595 |
Common Problems of the KFX700
Part of the setbacks of a loaned engine and rear-end setup is that the four-wheeler has similar problems in the said design. Such was the case for the Kawasaki KFX 700.
Let's go over the vehicle's most prevalent issues and see if you can identify which ones have been inherited from the Prairie and Brute Force lineup:
Fragile Tie Rods
Stock tie rods are soft as butter and can only be fixed with aftermarket tie rods and tie rod ends. However, be careful in going all out with aftermarket replacements, which may weaken the vehicle's frame, especially the area near the front spar (the little mount found at the front where the lower mount for the brush guard bolts to).
Simply replacing suspected flimsy parts and reinforcing the stock frame's spar area will not give you a long-term fix if you do not avoid hitting trees, large rocks, or any other obstacle at high speed. Also, refrain from unnecessary lift kits and bigger tires as they only make the stock tie rods weaker.
2004 Rocker Arm Shafts
Mounting bolts on the rocker arm shafts of 2004 KFX 700 models tend to get loose and fall into the motor's top-end causing catastrophic damage.
To avoid this, make sure to lube the rocker arm and shaft only after torquing them into place – which means that you need to install these parts dry.
Secondly, you may need to deviate from manufacturer torque specifications a bit, as installing brand-new cam towers and rocker shafts is a rare occurrence. If the suggested rocker shaft torque is 1.8 kpm (13 ft-lb), you may need to increase it to 2.5 > 2.8 kpm (18.07-20.24 ft-lb) on used rocker assemblies to ensure they do not come loose.
When buying a secondhand unit, the best way to check is to take off the valve lash inspection covers and examine if those 8-mm bolts are missing.
Cold-starting Problems
Challenges with cold-starting are nothing new to the KFX 700. Like the Prairie 650, its monstrous V-Twin engine has a specific functionality during cold weather that retards the quad's ignition, resulting in difficulty with engine startup.
Additionally, its rear end completely locks up when it sits for long periods. As if these were not enough, other probable causes such as moisture in the brake cable, water-polluted oil in the differential, wrong fluid, and water in the rear housing (around the brake lever) contribute to the problem.
The good thing is that it is among the more manageable issues known to the quad, and eliminating moisture or wrong fluid in the vehicle's system fixes it.
Drive Pulley Issues
Typically, this problem happens when you submerge the 4×4 in water beyond its fording limit and without waterproofing the wheeler first.
Eroded splines or drive pulley wear marks on the cage's side due to worn-down plastic buttons may also cause it. Symptoms include misfiring, oil leaks, slippage, or engine noise that gradually escalates into a grinding sound over time.
Lubricating affected parts not only mitigates wear but also helps resolve the problem. Conversely, drive pulley wear marks are non-serviceable and indicate a need for a new spider costing around $90.
Flimsy Parts
According to KFX owners, tires, CV boot, steering stem, and taillight are some of the stock parts that need immediate replacement as they are weak. The first two are prone to wobbling or vibrating at high speeds, while the taillight is inherently vulnerable even if you do not wheelie too much.
Premature Wear
The same goes for parts that are likely to wear out prematurely, such as intake valves, front bumper mounts, and swingarm bearings. Front bumper mounts cannot hold anything stronger than an OEM bumper – otherwise, they will crack or break at the first small impact.
In the case of swingarm bearings, they are not sealed well from the factory. Added weight from the sealed brake system and frequent mud riding further aggravate their fragile nature. Greasing periodically and replacing worn-out parts as needed rectifies the problem.
Other Problems
The stock suspension is too stiff.
The steering hoop bends easily when the four-wheeler rolls.
Shifter keeps knocking out of gear even after proper adjustments.
Adjusting the valves to the higher number in the range results in a ticking noise when the engine starts.
The water pump drive shaft gets pitted due to mechanical seal failure.
Engine pukes gas out the overflow tube due to incorrect float height setting or worn float needle valves.
OEM ECU causes battery drain in many units.
The brake light switch on the front master cylinder shorts out and causes the main fuse to blow.
The Roll-over sensor is non-functional and better off bypassed (a Tip-Over Switch Eliminator will get the job done).
The header cracks and blows up due to heat and vibration.
The rear sprocket bolts shear and cause the chain to bust.
The electrical system is difficult to troubleshoot.
Oil drain bolts strip out easily.
While some of these problems may be from an assembly flaw at the dealership, others are due to poor maintenance and use (and abuse) of the quad. Having your 4×4 exposed to the elements unprotected or not taking the proper measures before storing it away for long periods can only cause your four-wheeler more harm than good.
Similarly, forcing your vehicle to turn into a thoroughbred racer and applying counter-intuitive mods on it only worsens its inherent problems.
About Kawasaki
Kawasaki Heavy Industries, Ltd. is a Japanese firm known to produce industry-leading vehicles like the Kawasaki KFX 700. Founded in 1878, Kawasaki traces back its humble beginnings to being a part supplier for shipping businesses before venturing into multiple automotive industries.
This world-renowned company has grown into a multi-million-dollar production of transit, aerospace and energy systems, hydraulic machinery, motorsport vehicles, side x sides, and watercraft.
Conclusion – Kawasaki KFX 700 Review
All in all, the Kawasaki KFX 700 does not disappoint. Like its predecessors, it sports the same monstrous power delivery, low-range torque, well-made chassis, and other sought-after mechanisms that spawned current big-bore behemoths.
It has elements that may feel a bit restrictive for the advanced rider. But with meticulously executed mods, any skilled off-roader is bound to enjoy what this iconic four-wheeler has to offer.